FCT BANKS PROCESS 1,024,627 FINANCIAL INSTRUMENTS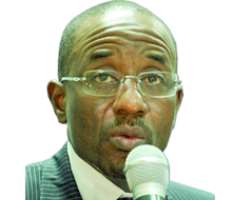 • Sanusi
Ahead of  January deadline for cashless economy, banks in the Federal Capital Territory(FCT) have begun to  adjust to the cashless economy scheduled to take off next year as a total of 1,024,627 financial instruments valued at N831.53 billion for the year 2011 were processed.
This is against 3,964,266 cheques valued at N2,561.31 billion that were processed  at the end of November, 2010. Recall that Central Bank of Nigeria (CBN) had said that beginning from next year, January,  it would begin a pilot scheme of a cashless economy with Lagos State and then graduate to Port Harcourt and Abuja subsequently.
Before then, it said,  over 40,000 Point of Sales (POS) and Automated Teller Machines (ATMs) together with other financial instruments would  be mounted in various parts of the city to withdraw cash from the bank. Consequently, some banks are taking different steps to avoid huge cash payments to  customers in order to acquaint them with the use of financial instruments.
Branch Controller, Central Bank of Nigeria (CBN),Abuja, Mr John Chukwudifu, who gave the figure at the weekend during the Bankers' Dinner/ Award in Abuja, also said that 1,862,765 funds transfers were made valued at N984.52 billion as at November 30, 2011 compared to 1,390.00 funds transfers valued at N826.27 billion at the end of November 2010.
This, he said, shows a drop in the use cheques and an increase in electronic payments.'Local and upcountry cheques are considered cleared after two clearing days (ie T+2). The Federal Government's policy on e-payment and the limit of N10 million placed on the value of clearing cheques are strictly being adhered to in the clearing house' he said.
To this effect, CBN announced various awards for banks that excelled in various award categories such as Agricultural Lending to Farmers in FCT;  Accuracy in Data Presentation and Transmission; Punctuality in Clearing House Sessions; Treasury Operations (withdrawals and deposits) and Currency Processing activities.
In the Agricultural Lending, First Bank came first while Union Bank took the second position.
Whereas Oceanic Bank  came tops in Accuracy in Data Processing, Fidelity Bank took the second position.
Also in Currency Processing, Diamond Bank took the first position while Zenith Bank came second. Also, in Punctuality in the Clearing House, Oceanic Bank took the lead while Union Bank followed.
With regard to Treasury Operations, Zenith Bank came first and Diamond Bank came second.
In his remarks, Mr Malachy Nwaiwu who represented CBN's Director of Operations, reminded the banks that CBN was bent on actualizing the cashless Lagos in January 2012 saying that after Lagos,  Abuja and Port Harcourt will follow.