Lace hair still the rave of the moment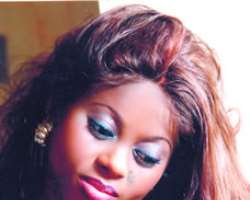 Love style? Then follow the trend. Admire the aesthetics that comes with lace weave on. Lace hair extension is the latest in hair industry. It has taken over the hair fashion now. It does not has that coarse feel; rather it is gentle, natural and fluffy. For the ladies who are fashion conscious, lace weavon is on the high side. Initially, it went for N120,000 but now you can get it between N80 and N90,000.
The originators who are the Americans considered the stylish nature of women, knowing that the hair is the final word in style.
Your shoulders are carried high when you adorn a lace hair; you get the celebrated Hispanic look. The beauty is not what you try to just catch a glimpse; you rather stare at it to satisfy your quest for curiosity and to admire the fluffy nature of the lace hair.
Since it hit the market, the reign has not dwindled neither is it planning to slow down. It is a fashion women embraced with two hands.
"You wear it with ease and comfort", says Anthonia Chinwe Akajiobi, who likes her private life but deals with lace hair extension. Yes, there are hair extensions but the lace type is about the best quality because of its natural feel and look, she says. She explained how the hair is worn. "It is worn with its oil being rubbed at the edge of the head and then you fix your hair and dazzle with it.
It comes in different colours, sizes and lengths. The wearer needs light make-up, and it looks wonderful when a lady wears a bustier, spaghetti tops and sleeveless clothes. Akajiobi adds that the hair could be worn to the office when stylishly packed. It is great for occasions and gracious on the wearer. Don't be left out, follow the trend and get noticed.
Story by http://nollywoodgists.com