Tiger Climbs To 21st In World Rankings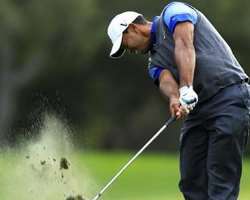 TIGER WOODS OF THE U.S. HITS A SHOT ON THE 18TH FAIRWAY DURING THE SECOND ROUND OF THE CHEVRON WORLD CHALLENGE PGA GOLF TOURNAMENT IN THOUSAND OAKS, CALIFORNIA DECEMBER 2, 2011.
Tiger Woods has soared to 21st from 52nd in the world rankings after his triumph in the Chevron World Challenge at Thousand Oaks, California.
The 35-year-old American, who has won 14 majors, landed his first tournament victory since the 2009 Australian Masters when he edged out fellow countryman Zach Johnson by one stroke on Sunday.
Britain's Luke Donald will end the year as world number one regardless of his performance at this week's Dubai World Championship, the final event of the European Tour season.
Donald, who turns 34 on Wednesday, has been top of the rankings for 27 weeks.
REUTERS