Stock Futures Gain Ahead Of Key Jobs Report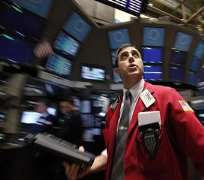 Stock index futures pointed to a sharply higher open for equities on Wall Street on Friday, with futures for the S&P 500, for the Dow Jones and for the Nasdaq 100 up 1 to 1.1 percent ahead of a key jobs report.
U.S. employment growth likely picked up speed in November, but the pace is not expected to be quick enough to bring down the country's 9 percent jobless rate. Nonfarm payrolls likely increased by 122,000 last month, according to a survey, which would outpace October's 80,000.
A top Chinese foreign ministry official said Europe cannot expect China to use a big portion of its $3.2 trillion foreign exchange reserves to rescue indebted nations, Beijing's strongest rebuttal yet to suggestions it should bail out the euro zone.
Economic Cycle Research Institute releases at 10:30 a.m. ET its weekly index of economic activity for the week ended November 25. In the prior week the index read 122.3.
Europe's Airbus accused the White House of derailing open competition by helping Boeing Co (BA.N) win a record aircraft deal in Indonesia as details emerged of a behind-the-scenes struggle over jobs and airplane sales worth almost $22 billion.
Google Inc (GOOG.O) is pondering an Internet service to help consumers shop online and take advantage of same-day delivery, hoping to stanch the loss of Web traffic to Amazon.com Inc (AMZN.O), the Wall Street Journal reported on Thursday.
Three leading U.S. senators are inquiring into drugmaker Pfizer Inc's (PFE.N) efforts to limit the sale of generic versions of its Lipitor cholesterol drug, which lost U.S. patent protection this week.
The biggest legal battle for the technology industry is playing out in a federal court in Silicon Valley, where Apple (AAPL.O) is trying to stop Samsung (005930.KS) from selling Galaxy phones and tablets in the United States.
Sprint Nextel Corp (S.N), the No.3 U.S. mobile provider, agreed to pay up to $1.6 billion to Clearwire Corp (CLWR.O) in the next four years, easing concerns about a liquidity crisis at Clearwire.
European stocks .FTEU3 rose 1.5 percent on Friday and were set to post their biggest weekly gains since the onset of the financial crisis in late 2008, on hopes of upbeat U.S. jobs data and a bold solution to the euro zone debt crisis at the December 9 summit.
U.S. stocks were trod water on Thursday after the previous day's massive gains, but traders worried that recent strong data could set the market up for a sell-off should Friday's jobs report fall short of hopes.
The Dow Jones industrial average .DJI closed down 25.65 points, or 0.21 percent, at 12,020.03. The S&P 500 .SPX lost 2.38 points, or 0.19 percent, to 1,244.58. The Nasdaq Composite .IXIC gained 5.86 points, or 0.22 percent, to 2,626.20.
REUTERS