WHY NIGERIANS SHOULD APPRECIATE ALISON-MADUEKE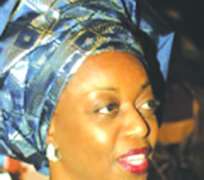 •Alison-Madueke
The barrage of attacks hurled at the Petroleum Minister, Alison Diezani Madueke, by some reactionary elements in the country is disgusting as it is nauseating. No right thinking person in possession of his mental faculty can be so obsessed and intractable that they would not see anything good in the conduct of this fine, distinguished and excellent personality.
She is to us and majority of Nigerians a rare woman of substance and of cherished value. The malicious allegation or inference that she bought $20 million mansion in a reserved conservative city like Vienna, without any shred of evidence of money transfer and other transaction relating thereto, is a cheap blackmail that cannot stand the test of logic and reason.
This is another calculated attempt to assail her character wantonly. A similar story by Jakarta Post in September accused the Ministry of Petroleum Resources of planning to invest in a multi-billion-naira refinery in Indonesia, but again, the Jakarta Post retracted its story and apologized profusely on its front page. But incidentally, the denial did not gain as much prominence as the initial slanderous imputation, even some pliant local press faltered on the altar of negativism.
The chronic fault finders delight in casting aspersion on her person to denigrate her office. This deliberate act is intended to deny Nigerians the benefit of her benevolence, honesty, traits, doggedness, selflessness, service delivery drive and unselfish service to humanity, but we know why these few but powerful business moguls, who are already entrenched in the system, would stop at nothing to remove the target they perceive as too much disposed to implementing the transformation agenda of Jonathan's Presidency, which in effect would revolutionize the sector and by extension better the lot of the common man.
The minister has created investment opportunities in the downstream, which include but not limited to the following: Domestic production and marketing of Liquefied Natural Gas (LPG) Domestic manufacturing of LPG cylinders, valves and regulators, installation of filling plants, retail distribution; and development of simple, flexible and less expensive gas burners to encourage the use of gas instead of wood.
Under the supervision of the Honourable Minister, there is ample demonstration of achievements in the HSE Health Safety Environment with available information at our disposal, she developed and publicized the First NNPC Group HSE policy statement signed by the Chief Executive Officer (CEO). Raised the status of HSE reporting line, awareness and responsibilities from division to division to directorate, she equally changed the name of the Department from Environmental & Safety to HSE in line with known industry in conformity with world practice and benchmarking with other National Oil Companies, her ingenuity made her to introduce and secure E&T DEXCOM approval for implementation of Risk Assessment Matrix as a decision-making management tool she, further introduced the practice of world class HSE safety managemen. This woman of achievement blended with Spartan discipline initiated waste segregation practice in NNPC Towers and some subsidiaries as a means of improving waste handling and disposalin line with industry best practice.
With implementation of the gas master plan, Nigeria would become global industrial hub and attract $25 billion in investments and would equally create 500,000 jobs within three years. Although this plan is initiated under President Goodluck Ebele Jonathan's transformation agenda, Alison-Madueke played a pivotal role as regards implementation. Since she assumed office, we have witnessed price stability and uninterrupted supply of fuel, thereby denying the powerful brokers their usual practice of causing artificial scarcity. All the past bottlenecks created by the oil cartel have been neutralized because of the absolute premium she placed on honesty and transparency in the system. But in spite of her commitment to service delivery, her political detractors and traducers remain unrelenting in their vilification of her person and office.
We are, however, elated and gratified that the President appreciates this rare jewel by awarding her Commander of the Order of the Niger (CON). At least, the award would serve as an elixir to spur her into more action. If she had not been so recognized, it would have been a costly mistake for the administration, because where a public office holder happens to discharge his/her duty effectively and efficiently in the face of mounting opposition, reward for excellence ought to be the ultimate. It is incumbent on our vibrant media to assess and evaluate the performance of such public officer after due investigative process to enlighten Nigerians and give appropriate appraisal and judgment courtesy of the FOI law, which invested them with such powers.
Obolo writes from Abuja