I love gowns… but they must come in moderate colours---Imelda Ada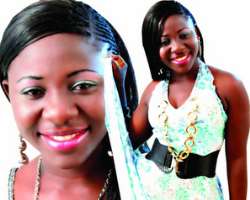 WHEN she's on stage, she dances like Beyonce, with a voice that is mellifluous. Born on November 19, 1986, Imelda Ada Okwori, a native of Okpokwu Local Council of Benue State, started her primary education at Mercy Nursery and Primary School, Ugwu Opoga, before moving to St. Bernard Primary School, also in Okpoga. Imelda J, as she is fondly known, had her secondary education at Our Lady of Fatima Girls' Secondary School, Ai-Dogodo, Okpoga. The graduate of Federal University of Agriculture, Makurdi, Benue State, does mostly the R&B and dance hall music. She has released singles such as My love for you (ft OJB Jezreel), which she says, enjoys encouraging airplay, even on Channel O; Ijo ti ya and Better things, among others. She tells DAMILOLA ADEKOYA what fashion is to her.
Definition of fashion
For me, it is anything that has a good colour combination and fitting. Some people think that it is only what is in vogue that you can call fashion, but I disagree. I think it's the fitting the clothing has on you.
Style of dressing
I love gowns a lot. Ball gowns, dinner gowns, name it! It brings out my figure and I enjoy going on stage with it. I also love jean trousers, but gowns are just my style. I love and enjoy using ankara fabrics to sew them a lot. I also consider colours when choosing the fabrics because I love moderate colours.
Favorite colour (s): I love pink. And I love green because it's so natural.
Most cherished possession: My bangles. I love them a lot and I create time to shop for them.
Most expensive item: I think it's my music because that is where I have invested more on.
Most favourite piece of clothing: I love my jewelries and I'm always specific about it. If I use a gold chain, then it has to be gold.
Favourite food: I love pounded yam and egusi soup but specifically, my native type. I also love bush meat, my grandmother always send me that when I was in school.
Turn on: People around me matter a lot. When I see smiles on their faces, then I'm turn on. Music also makes me happy. It does relieve me when I'm angry.
Turn off: I hate procrastination; it puts me off.
Happiest moments: It was the day I rounded off production of my album. That same month, I finished from school. That has been my happiest moment so far.
Most embarrassing moments: It was when a woman stained my white trousers, when we were going for a video shoot. I had to use it like that but I was embarrassed as everybody was asking me what stained my trousers.
Projection into the future: I want to be not just a super star but also a mega star. I want to be recognised anywhere I go to. I would also love to give back to the society in my own way and; by that I can actually come back to say thank you to those who have made me and stood by me.
Family background: I'm from the family of Mr and Mrs Emmanuel Okwori. We are four in number and I'm the first daughter and second child. My mum is a nurse and my Dad is an agriculturist.
Describe yourself in few words: I'm friendly, intelligent and always conscious of time; no procrastination.
Philosophy of life: No downgrading! Because you never can tell who will be the next.
If you were given a chance to change something in Nigeria, what would it be?
I will change the mindset of Nigerians because I think changes begin with an individual, who works positively towards changing and branding a new Nigeria. Greed is a major problem in this country and it has to be eradicated. The club, Re-brand Nigeria should also be established in schools and an anthem should also be composed so that it will be sang at the beginning of every meeting held.
With that alone, I think they will always remember that they have something good to do towards Nigeria.
So, I will like to change the mindset of people through music and right now, I'm working on an anthem, to work towards a positive change in the country for a better tomorrow, because tomorrow is bigger than today.
Story by http://nollywoodgists.com