I'm more than a rapper, says MI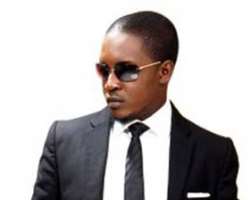 Only last weekend in far away Nairobi, Kenya, he picked up two awards at the Mtv Africa Music Awards (MAMA '09). He beat Jay-Z and kanye West among others to emerge 'best Hip Hop Act' alongside winning the 'Best New Act' category.
Jude Abaga aka M.I is a rap phenomenon and we call him Naija's rap messiah. He's arguably the rappers rapper. In this interview he takes us through his own assessment of how he's been able to come this far in so short a time. Enjoy it.
Did it have to be rap music?
Yes and No. No, because it isn't just rap. I'm more of a songwriter than I'm a rapper and that's why, I guess, I'm perceived a little bit differently from other rappers.
Because most rappers get a beat, they write three verses to the beat and the chorus. Right now, I'm working on my second album and right form the concept of the album- that influences the intro and outro, the topics I wanna talk about, the kind of producers I wanna work with, so I'm creating something and it determines whether I need to sing, write poetry and every other thing that I need to do.
I did almost everything on my album including 70% production so it s not just rap. The rap just seems to be the most prominent vehicle for how I communicate my ideas.
You sound like you decide on the theme for an album first before fitting the contents, talking about writing your songs.
Definitely. 'Talk About It' was 60% of what I really wanted to do. I just ran out of time. I wanted to talk about everything. I wrote a list of topics: politics, religion, God, love, life, hope, despair, money etc and I said I was going to write one song about each of them.
For 'Money' (one of the tracks on his album), its about struggles; 'Jehovah' talks about my relationship with God. there are one or two songs about love and another one or two about me like 'Short Black Boy'. There I was trying to get people to feel a little bit of my personality.
'Ánoti' is the party-like track; it's a club song that took deliberate efforts. you know you have to have one or two of those songs (club songs).
You need to talk about everything to be balanced. With the next album, I really want to celebrate my music; very few people do that. I think the person who does so well is D'banj.
He likes to celebrate himself. To do this, I'm using a larger than life concept and promo plan. I already worked with 2Face. I'm probably going to work with 9ice, Wande Coal, D'banj, Don jazzy, Dr Frabz and the biggest producers and artistes to create a big album to celebrate how far I've come in a year already. I've started looking at the songs that match these people.
Don't you give room for spontaneity in your compositions?
A great inventor once said most of his inventions happened by accident while he was thinking of something else. Spontaneity is very important but unfortunately too many musicians in Nigeria depend on it- and I say this without prejudice towards anybody.
They go to the studio, get a nice beat, get drunk and write a song. And it works. That is because, in such state you can be absolutely crazy and write something that will shock people but you can't do that forever because those ideas are not very many.
But when you attempt to write in a conscious state, along the line you'll discover new things you actually wanted to say in your sub-conscious but which you couldn't access just like 'Safe'(one of his hit tracks).
So what's the theme you'll be writing around this time in your coming album?
M.I 2 is a movie. I'm writing it as if I'm making a film. film starts with an actor and that's how you'll be introduced to M.I. Then there's a dilemma.
Then in a song he meets a girl he wants but there's a problem and on and on. I don't know how I'm going to perfect that but I'm just writing along this line.
And how many tracks or scenes are we looking at?
Maybe another thirteen (like 'Talk About It'). But I've done four so far and I'm happy.
Is it likely it comes out before the end of the year?
December 1st by the grace of God. My last album came out September 11, last year.
Why are you moving so quickly?
I think that with Hip Hop in Nigeria, you need to be very prolific because people can easily forget. Its not like singing. Melodies are easier to remember. But with rap, you need to keep being in peoples' faces.
Apart from this, generally I think God has given me the chance to be something special for Hip Hop in Nigeria. Not by virtue of the fact that I'm better than anybody else. I don't know what exactly, but its just fallen in my lap that this guy can redefine Hip Hop.
One thing I always say to young people is to work hard. I don't want to rap for ten years but while I'm rapping, I'll let people know that I give my best. I don't allow girls, cars, money or anything come in the way of my doing my work.
So you already have a projected time span on the music scene. How long precisely is it?
Well, Yes and No. Everybody wants to be at the top forever but after my second album I may take a year and half off making albums. But the way I work, probably by next year, I'll be getting bored again and want to be something.
Jay-Z is a rapper that puts out an album for six straight summers. And I mean, that's incredible. Look at him now, he's like a mini-god. So why not I?
How commercially rewarding was your last album?
Its probably the biggest selling rap albums in Nigeria. My marketer told us he made money off the album which is tough usually for a marketer to admit. If you hear the funny things they tell artistes, you'll be shocked. And I made small money too, I won't lie to you guys.
So did you envisage the magnitude of success you had for a debut…
I don't know how it happened. Success is like diving. I mean you just dive believing you'll be safe. I just did it.
And recently, I've been hanging out with rappers who'd been there long before me and when we talk, this wave of emotions just come over because I realize its God who's brought this success.Iit has nothing to do with who I am or even the talent.
And the truth is that I can trace all of who I am today to influences from people I met along the way and had conversations that have inspired me. I think for some special reasons God just said, 'Jude, I need you for this job'.
So it'd be right to say 'Talk About It' was a gamble.
Definitely. Putting yourself out there is always tough. A lot of questions go through your mind: 'What are people gonna say?', 'What are they gonna think?'
What percentage of talent, skills and luck make up the celebrated success that you are today?
This is one of the best questions I've been asked ever. Its very funny because it is 100% hard work yet it is also 100% God. You must work like it's up to you but then you must realize its not up to you.
Talent is also very important. There are a lot of people that enter into a profession because they like it and unfortunately they do not excel at it simply because they're not as gifted as some other dudes.
My younger brother Jesse Jagz is tremendously gifted. He puts in about 30% of the work I put in and comes out with something that's maybe 200 times better than what I do, you know what I mean, and that's just Jesse.
Meanwhile, there are some people that are putting in 400 times more work than I do and will not come out with 30% of my outcome.
The problem is that many times people have the love for music and they assume that they automatically must take centre stage.
You can keep the love for music but redefine the angle by looking for a new way to do it (music). Its just like me deciding to work as manger for my brother; I'll still be doing music.
It might just not be as glamorous as being a rapper or R N B star but we need to stop thinking small.
Can rap be learnt?
Definitely.
And what is rap itself. Is it about beef, dissing, punch lines, rhymes or what?
It's a mixture of stagecraft, your swag- that is your carriage, your ability to use words- talking about your vocabulary or rhetoric and how you communicate basically. Then additionally, understanding the culture and having respect for it (the rap culture) is important.

Story by http://nollywoodgists.com