PALM OIL DEMAND GROWING, BUT NOT FAST ENOUGH- WWF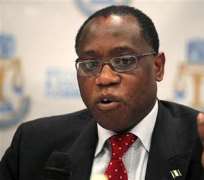 MANUFACTURERS and retailers in Europe, Australia and Japan are buying more eco-friendly palm oil compared to two years ago, Environment group WWF said on Tuesday. The group also said more firms need to display a stronger commitment to preserving forests.
A scorecard devised by WWF showed 87 out of 132 firms, including Nestle and Unilever, had pledged to meet their palm oil needs by 2015 or earlier from planters in Asia, Africa and South America who do not cut forests and destroy wildlife.
That signals growing demand for green palm oil, which now stands at half of the five million tonnes currently supplied to the market. It also shows some progress from the first scorecard in 2009 when only 10 out of 59 European firms pledged to take up the edible oil from sustainable sources.
Minister of Trade & Investment, Olusegun Aganga
'There are no excuses for all companies not to take action now,'said Adam Harrison, senior policy officer with WWF who represents the group on the industry-driven Roundtable on Sustainable Palm Oil's (RSPO) executive board. But 2015 is just around the corner, all companies, even some of the top performers, need to move faster,' 'he added.
WWF published the scorecard during the RSPO meeting in Malaysian's Borneo Island State of Sabah where oil palm growers, consumers and environment groups assessed the edible oil's green credentials over the years.
The scorecard tracks the companies' purchasing decisions, green policies and willingness to join the RSPO. WWF said the buyers scorecard showed the companies source just half of their palm oil needs from eco-friendly planters, a sign that their commitment to protect the environment was not too strong.
Data showed nearly half of the 43 retailers and more than a fifth of 89 consumer goods manufacturers scored poorly in taking responsibility for the environmental impact of their palm oil buying.
'So it is clear that some manufacturers and retailers have fallen behind on their commitments to 100 per cent sustainable palm oil, while others haven't even started
at all,'Harrison said. The slow sales of eco-friendly palm oil have angered palm oil producers in Indonesia and Malaysia, the world's top two exporters, who say they spend more per hectare to ensure they meet voluntary green standards set by the RSPO. Last month, the Indonesian Palm Oil Association withdrew its membership from the RSPO, saying the lobby was pandering to green groups.
Indonesia is also starting a mandatory certification scheme for green production. Malaysia's government also plans to start its own scheme for local growers. The WWF urged palm oil buyers to become more transparent about how much they buy from environmentally friendly plantations, to encourage green practices.
'WWF wants far more openness in this industry. Unless there is greater transparency, oil palm growers will remain unwilling to commit to certification,'said Harrison. If we want growers to act responsibly, buyers of palm oil need to show what their future demand for certified sustainable palm oil is going to be.'