I've Learnt A Lot From Tuface -Annie Macaulay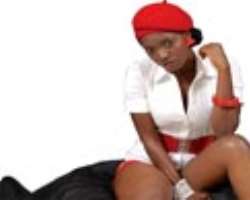 Annie Macaulay, the actress who has become a subject of discourse since she rose to stardom some years back over her personality and choice of man, is one lady that has remained unshaken.
This Akwa Ibom-born damsel and mother of one would not talk about her romance, personal affair or her intimacy with award-winning songster, Tuface (Innocent Ujah Idibia) however, she would easily tell anyone who cares to listen that she's known the singer for long and that she has been the better for it.
"I've known Tuface for a very long time. He's a good person and we've always been close. Tuface is a good person with a good heart; he's genuinely good and someone with a good spirit too.
"He's not just good to me but to people around him generally. I have learnt a lot from him and anyone that comes in contact with him would readily tell you he's a good person," Annie said.
Perceived to be blunt and lively, Annie is enjoying her status as a mother and a Nigerian celebrity, who is attracted to the totality of art.
"Motherhood is good, my child is my world. I would forever cherish my baby and nurture her into a good lady. She would make a brilliant young lady and I'm so proud of her."
Though Annie is still finding her way back into the entertainment circuit after her break to give birth, the actress cum TV host has concluded plans to kick off her TV show anytime soon.
According to her, one of her reasons for getting involved in the programme is to enable her impact on the lives of youngsters.
"I'm a stickler for young people and young professionals are always my delight. My TV programme, which would debut soon, is also targeted at the young minds. It would have a segment for young professionals and efficiently celebrate these people in our own little way. I intend to inspire several young people who are imbued with talent to make things happen.
"I'm always careful in whatever I do because whatever I do now will affect me later. I really want to be successful as an actress, I want to make an impact on the younger ones and that is why I'm trying to live the best life possible, even though I have made mistakes while growing up, I still try to be the best that I can be."
Annie, who also made her mark after she came tops in the Sola Fajobi created Next Movie Star, made her debut on the screen in a TV series scripted by Femi Lasode.
"I'm attracted to the totality of art. I've been acting since I was a child. I did some stage plays while I was in secondary school and have done well for myself, trying to help nurture my talent.
"I started off with Femi Lasode and acted in a series called First Family, that was where I played the role of a governor's daughter and that was how it all began. Then later I also did some couple of series which include Flat Mates.
"I didn't start movie immediately because I wanted to get all the knowledge that I could lay my hands on before venturing into it. When I started, it was on the same set with Onyeka Onwenu and Ramsey Nouah in Different World. I also did Calabar Girl and these two were quite challenging for me but that was the beginning," she said.
The only female in a family with four kids and the youngest, Annie enjoys cooking a great deal-especially a hot delicacy of Cocoyam and Vegetable or 'Affang' and 'Ikpankwukwu' soup.
"I enjoy cooking and most times I love cooking delicacies like 'Affang' and 'Ikpankwukwu' soup and cocoyam and vegetable. I'm from a family that loves me and we adore each other as the love of God serenades our house," she said.