Ogun Declares War On Armed Robbers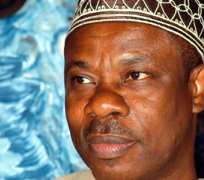 ABEOKUTA, November 15, (THEWILL) - Governor Ibikunle Amosun of Ogun State has declared a total war on armed bandits, warning them to steer clear of the state as his government is poised to crack down on their activities.
The governor, while receiving leaders of the Ijebu Bankers' Forum in Abeokuta, revealed that the state government would soon take delivery of ten Armoured Personnel Carriers (APC's) to assist the police and other security operatives in combating armed banditry and other violent crimes in the state.
He said the 10 APC's were the first set of 30 needed by the government to place an effective security cover around the state.
The governor added, "We have also approached some neighbouring states to lend us some of their APC's to assist in confronting the security challenges we are facing here and they are enthusiastic in doing that."
Senator Amosun added that the APC's would be supported by over 100 Toyota Hilux jeeps, which would serve as backups.
He noted that the planned military/police joint security operations would soon take off.
The governor, while emphasizing the importance of a sound security environment as a pre-requisite for businesses to thrive, appealed to corporate organizations to complement government's efforts on security through funding.
According to him, "These things don't come cheap; a standard APC goes for between N85m and N100m and we will soon take delivery of 10 of them; we actually need between 30 and 35 to cover the whole state and ensure that robbers don't find it easy in the state. We need to tool the APC's as well as equip and motivate those that will operate them.
"The joint military/police patrol will cost money too. We need at least 30 teams to patrol the whole state and that will cost money. We will need about 1,200 men for the patrol and N50m would be needed to fund each of the patrol teams; this amounts to N1.5billion."
Governor Amosun also tasked security operatives in the state to be more active, pointing out that the frequency of the attacks did not speak well of the competence of the security men.
The chairman of the Ijebu Bankers' Forum, Mr. Olusegun Olusoga, had informed the governor of the security challenges facing their operations and appealed for government's assistance.