IN SEARCH OF MISS BIG AND BEAUTIFUL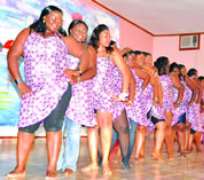 Some of the contestants at 2010 Big and Beautiful pegeant
All is now set for the grand finale of this year's Miss Big and Beautiful pageant scheduled to take place tomorrow at Balmoral event centre, Kudirat Abiola Way, Ikeja. In all, 32 contestants who emerged from the zonal screening, are expected to vie for the coveted crown. According to the Chief Executive Officer of of Big and Beautiful Pageant, Amb. Austine Godswill Enehizena, it is going to be a day of razzmataz and effizzy at the event. Amb. Enehizena explained that the zoning process gives room for the enhancement of cross ethnic interactions, bonding the diverse cultures in Nigeria.
This marks the 5th edition of the contest. In the first and second editions, there were contestants from other African countries, but this year, only Nigerians will be eligible to contest, Enehizena stated.
On how the contest started, the CEO explained: 'It's all about the plus size African woman. For a very long time they felt neglected or relegated to the background. If you are not lepa, you will not be named a queen. Plus size girls are always feeling inferior and, therefore, can't bring out their talents. But because they are ready to fight those things that disturb them in life, they decided to come out. So, we are ready to help them to come out and give them a chance to come out and do something in life. The pageant is all about promoting health, wealth and talent'.
There are mouth-watering prizes for the winner of this year's event. The winner will witness the Big and Beautiful Pageant in Trinidad and Tobego. She will also get a Rio Kia or Serento car. The first runner-up will not be left out in receiving some prizes. She will take home a cash prize of N5000,000 and different trips to Ogudu Cattle Ranch and Transcorp Hilton, while the 2nd runner-up wins N250,000 cash. There will also be consolation prizes for other contestants.