Spare Us, Artistes Beg Kidnappers..........Kanayo O. Kanayo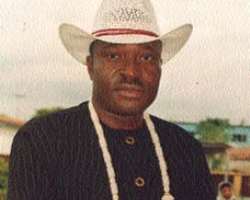 Following the kidnapping and release of star actor, Pete Edochie, Nigerian artistes have appealed to the kidnappers to spare them.
Speaking on the kindnapping menace, the interim president of Actors' Guild of Nigeria (AGN), Kanayo O. Kanayo, described the issue as a bad development for the people in the entertainment industry.
"We see it as a dangerous trend that will never happen again," he stated.
Stella Damassus appealed to the kidnappers to "leave the artistes alone. We are not fighting, it is the government that is fighting them, they don't even realise that they can even press home their case by speaking through us."
While enjoining the Federal Government to settle amicably with the kidnappers, Stella said with this development, artistes may be afraid of being kidnapped, because other people may capitalise on it to extort money.
In his own view, Segun Arinze described the issue as unfortunate, thanking God that Edoche was released early without any ransom.
"Where do you expect us to get N10 million? We are not rich as being reported," he said.
Arinze also appealed to the media to stop writing about the take home of an average artiste and the car he or she rides, among other things, adding, "we are not in the United States of America. We are not ripe for that, mind you, an average reader or those that go on the internet may have criminal tendencies. If you continue to write about us, you may be exposing us to danger."
Saint Obi described the kidnapping saga as shocking, saying "we pray it never happens again. Where do they expect us to get the N10 million demanded? The bad guys should just spare us because we are just entertainers and nothing more. We are not politicians. We are just working to make you happy."