When 80-Year-Old Pensioner Slumped, Died During Verification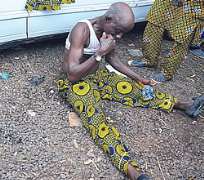 When a civil servant reaches 60 years of age or has been in public service for 35 years-whichever comes first- he or she is considered ripe for retirement. A lump sum of money, known as gratuity, is expected to be quickly paid to such person as part of the reward for his or her years of service. Afterwards, the retired worker awaits a monthly payment of pension to sustain the worker till death comes knocking.
The ideal situation captured above is far from being the case in Nigeria where the story of the welfare of retired workers is a tale of mournful lamentation over a backlog of unpaid pension and even gratuity.
Just last week, an 80-year-old man, Mr Samuel Olatunji, slumped and died in Ibadan, while waiting to have his fingerprints captured during a verification of pensioners exercise by officials from Abuja.
Three other pensioners became exhausted as a result of the slow pace of the exercise held at the federal secretariat in Ikolaba, Ibadan and also slumped but did not die as they were quickly rushed to hospitals.
The state chairman of the Nigeria Union of Pensioners (NUP), Alhaji Lateef Adegoke, in an interview with newsmen, said Olatunji collapsed because he was unable to stand the rigours of waiting to have his thumbprints registered.
"When he slumped, we rushed him to a car nearby and got him stabilised in the car. But suddenly, he just gasped for breath and passed on. It is unfortunate," he said.
According to him, the slow pace of the exercise was occasioned by inadequate biometric machines. He explained that out of the three machines brought to capture the finger prints of about 9,000 retired workers, only two were working. He stated further that all the pensioners in the entire states under the defunct Western Region were lumped together in Oyo State for verification.
Mr Samuel Olatunji, who is the chairman NUP, Eruwa branch, where the deceased was a member, said the late Olatunji retired many years ago and was being paid N1,000 monthly. He was being owed a year's pension by the Federal Government before he died.
The late elderly pensioner retired in 1995 from the Forestry Department of the Federal Ministry of Agriculture as a Grade Level 1 worker. After his retirement, he went into full-time farming before he was hit by diabetes until his death last week.
For most of other pensioners, it is the same tale of jeremiad. Mrs Agnes Ayinde from Oyo State retired from the Federal Ministry of Agriculture about a decade ago. She remarked that since they started going for the verification exercise, they had been tossed around by officials like chaff.
"They discriminate in deciding those who they attend to. They attend to those who they know and we do not know anyone except God," she lamented.
Continuing, Mrs Ayinde said, "Two days ago, a vehicle hit one of us, though unknowingly, and broke the leg of the old pensioner. Do you know that if we had been paid well and in good time, we would not have experienced this artificial hardship? When the officials came for the last exercise, they said our names had been removed from the payroll because we joined service as labourers.
"They said those who got employment through government gazette would not be paid, that such is not valid without a letter of appointment. Since that time, they had stopped my pension.
"The Federal Government has a lot to learn from states in pension payment, especially in Oyo State. State officials will provide canopy and shelter us from inclement weather while attending to us. They don't lump us together like this; they decentralise points of verification and even come to us in our domain."
For Mrs Felicia Omoyinbo, 75, a 1999 retiree from Military Hospital in Ibadan, life after retirement has been cruel and brutish, like in the Hobbesian State of Nature. Although she had been paid her gratuity, 11 years after she was put out to the pasture by the Federal Government, she has not been paid her pension.
"I served this country for 33 years and 11 years after I retired, my pension is not forthcoming; no farthing. I have been surviving on the grace of God. It is a shame that after so many years of hard work for this country, I still labour as a maidservant as well as a washerwoman to make ends meet," the pensioner, who spoke with teary eyes, lamented.
Amid sobs and dabbing of her wet face, she appealed to the Federal Government to lessen the plight of the senior citizens of the country. She said she had spent all she had on transportation.
"I submitted all the necessary documents since October 12 and as I speak, I have not been attended to by the officials. We have seen that it is only those who bribe the officials that are cleared. Let government pay us one or two year's pension and save us from this frequent tragedy among us.
"We know there is government in this country, at least elections are held every four years and people are sworn in. What we have not had for a long time in this country is a compassionate government. We don't know who to turn to for help, but we know that God is watching," said Joseph Ojo, a 67-year-old federal retiree.
Out of 9,000 to be covered in the verification exercise, about 7, 000 pensioners had completed the verification process. The exercise has also been extended by two weeks as requested by the pensioners.
What the senior citizens are also calling for is the decentralisation of the verification as the concentration of all the federal pensioners from the defunct Western Region in Ibadan is considered cumbersome.