How I wish I was not that popular - Jim Iyke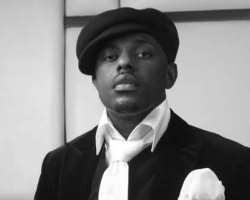 Jim Iyke, actor, producer, musician, businessman and entertainer per excellence, in this chat with TOPE OLUKOLE recently, said his coming into music was purely a business decision.
I'm Jim Iyke an actor, producer, business man and a traveler, now a musician, who just came up with an album entitled Who am I that also featured artiste like Tu face.
According to him, "asking one to describe oneself is a bit difficult but, I think I'm an introvert, I enjoy my own company, especially when I'm in my house and I play with my little toys. I like to keep well informed about any character I play and I read as well. I'm a sportsman; I've got a black belt in taekwondo and I used to run a black belt college."
He also agreed that he has been involved in all sorts of controversies, saying "but people who know me, know me contrary to what other people might think."
Jim has been in the movie industry for about eight years and he loves it. "I loved it from the beginning, the publicity and all. I've reached a point where I'm becoming too popular in Africa. Believe me, there are times I wish I was not that popular. I went to Portugal thinking that nobody knew me. But when I went cycling shirtless, I didn't make it half way down the streets when some Ghanaian guys called my name and the whole street exploded, it was crazy." I have fans all over the world that are crazy about me I'm only trying to keep at least 20% of my life to myself and 80% to the public.
" I've seen people in the movie industry who are really talented and very reserved. But I become a different person in front of the cameras and immediately I'm off, I am totally reserved,"he said
Iyke's career exploded three years ago when he starred in about 48 movies, the highest in Nollywood then. He was in commercials; he was everywhere and it got to a point; he had to take a compulsory rest to avoid exhaustion.
Speaking about the measure that was enforced in the Nollywood industry some time ago, Iyke stated that some were able to survive, while some did not. "I'm not blaming the marketers for whatever happened in the industry."