Nigeria Bomb Attack Targets Military Patrol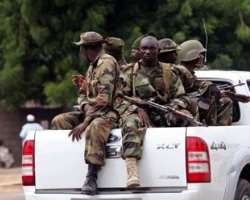 A bomb blast rocked the troubled northeastern Nigerian city of Maiduguri on Sunday in an attack on a military patrol vehicle, the army and residents said.
Although residents reported seeing an ambulance speeding away from the area, the army said there had been no casualties.
The city has previously been targeted by scores of bombings blamed on an Islamist sect known as Boko Haram.
"There was a bomb attack targeting a military patrol vehicle, but there were no casualties," said Colonel Victor Ebhaleme, commander of operations for a task force assigned to the city.
Residents described a large explosion, and one said he saw an ambulance driving at speed away from the area.
"There was a loud explosion," said resident Hammadi Yakubu. "The explosion was the loudest I've heard so far in the city."
He said "nobody knows the extent of the damage because the area has been cordoned off by soldiers."
Another resident gave a similar account, speaking of a heavy explosion and smoke billowing.
"The sound was really terrifying," said Ahmad Gana.
Another resident, Bunu Zarabe, said he saw a siren-blaring ambulance speeding out of the area with a military van behind it.
Residents in the neighbourhood known as Bulabulin Ngarnam were later said to be fleeing out of fears of a military raid in response to the blasts.
Soldiers have in the past been accused of rampaging though neighbourhoods after such explosions, killing residents, burning homes and claiming locals cooperated with the sect.
Maiduguri has been hit by scores of attacks blamed on Boko Haram, which also claimed responsibility for the August suicide bombing of UN headquarters in Abuja that killed at least 24 people.
Earlier this month, the military in Borno state, where Maiduguri is the capital, set a deadline of October 31 for residents to turn in illegal weapons and explosives.
At the time, the military claimed criminals were "hiding under the pretence of Boko Haram to commit crime in the state."
"Those who refuse to surrender their arms would face consequences after the expiration of the deadline," the statement had said.
Thousands of residents have already fled Maiduguri out of fears of further violence. The city, located in Nigeria's far northeast near the border with Chad, Cameroon and Niger, has seen the brunt of the violence blamed on the sect.
AFP.