FUEL SUBSIDY: MINISTER SNUBS LABOUR LEADERS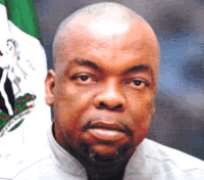 Minister of Labour, Chief Emeka Wogu said at the weekend that he does not need the permission of labour leadership before dialoguing with the unions over government policies.
He was reacting to the boycott of the meeting he called over the proposed fuel subsidy removal, which has generated controversy among stakeholders and other Nigerians. The Fedral Government intends to remove the subsidy from January. He spoke to State House correspondents in Abuja.
Wogu reportedly invited 15 labour unions and associations to the meeting he convened to engage them and other social partners over lingering areas of dispute on social and economic policies of government.
But only representatives of three unions attended the meeting which took place at the Conference Hall of the Ministry of Education, Federal Secretariat, Abuja, last Thursday.
Leaders of the Nigerian Labour Congress (NLC) and the Trade Union Congress (TUC) boycotted it, sensing that the parley was an attempt to break their ranks and influence them over the impending withdrawal of fuel subsidy.
Wogu faulted the claim that the meeting was boycotted by labour leaders. He explained that labour unions registered with the ministry were invited to explain some issues relating to government policies. He explained that out of the seven registered unions that were invited, five of them were represented.
The minister said the meeting was in line with the International Labour Organisation's (ILO) Convention that recognises dialogue.
Wogu said, 'the TUC and the NLC are unions and other unions do not need to take permission from them before attending a meeting with me.'I also do not need permission from them before meeting other unions.
'We have earlier held similar meetings with other unions. We have met with the ASUU. We did not take permission from them before we held that meeting.' Wogu expressed the belief that members of the union that were represented at the parley were now better informed on government policies but failed to say whether they had supported the move to remove fuel subsidy.