VETERAN ACTOR, SAM LOCO EFE GOES HOME TODAY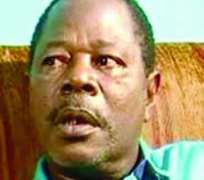 The late veteran actor, Mr. Samuel Arase Efeimwonkiekie, popularly called Sam Loco Efe will be laid to rest today, October 21, in Benin City, Edo State after a funeral service at the Baptist Convention Ground, NTA Road, Benin City at 2. 00pm.
Born December 25, 1939 into the family of Arase at Ogboka, in Benin Kingdom, Baby Sam counld not envisage what the future had in stock for him as very little attention was paid to his education. But he was determined to sort out life from every sphere of human endeavor.
The Civil war brought young Sam back from the East to Benin City in 1968, where he resided with Pa Aghedo. As the wind of the war began to settle down in 1969, he joined the then ECN, now PHCN as a footballer. Sam mesmerized his opponents on the pitch of play at his pace that earned him the name 'Locomotive', which he later adapted as 'Loco'.
He was certainly not a man who had interest in long names as even 'Efeimwonkiekie' was abbreviated to 'Efe, which gave many, the impression that he was of Delta origin. When football was no longer a choice endeavor for ECN, attempts were made to convert his employment to a casual labour status. But young Sam Loco Efe was a man who had an appointment with destiny. He quit ECN and matched on to Lagos.
In Lagos, Dunlop (Nig) Ltd was the first to identify Sam's burning desire to get on the springboard that is to take him to greater height in later years. Dunlop engaged him and brought him back to Benin City as a sales representative. One of the rules of engagement was a Volkswagen Beetle car. This was good in his eyes. Since, he learnt that there is no killing the beetle. Sam combined his life ambition in acting with his job. His early exploits on command performances on stage brought him to the realization that only acting could replace his love for football. He was a beauty to see in the play, 'Oba Ewuakpe'. Thus, Sam Loco Efe discovered his springboard that was to launch him to the world of fame.
That he left his salesmanship job for the theatre did not just happen. He was a natural performer of the sort that are born to the trade. Sam could not have been anything else but a classical thespian, who took the art to such heights of brilliance and style that added greatly to the true life situation he was imitating.
Discovered by Jonathan Ihonde, producer of the sitcom, Hotel De Jordan in the early 70's. Sam Loco Efe was initially cast as Piccado-Suberu and quickly given a more prominent role as Ukatabribri.
This brought him to limelight as Hotel De Jordan, along with Village Headmaster from the West. The Masquerade from the East, were the longest running sitcoms in Nigeria. Equipped with these experiences, sam Loco Efe walked tall into the Festival of Arts and Culture (FESTAC)'77, the second edition of the African's biggest Black Festivals of Arts and Culture. He rose with an outstanding performance in 'Langbodo', Nigeria's drama presentation in FESTAC'77. 'Langbodo' was the magic wand, the key that opened the door to a wonderful career that was to flourish until death 35 memorable years later.
This rescued his education as his clinical interpretation of the roles that fell to him to play at FESTAC'77 got him an admission into the University of Ibadan, where he emerged a humorist per excellence; a stage craftsman; and a video impresario, clinching a diploma in Theatre Arts Department. This veteran Thespian was in the cast of The Gods Are Not To Blame and Things Fall Apart. He set up The United Artistes theatre Workshop in 1977 alongside Felix Ogie, Prof Eghosa Osaghae, Uwa Osunbor and Dr. Uyi Lawal Usewanlele (USA-based lecturer).
With his experience and in company of Ben Risky Okoeguale, Sam toured secondary schools with repertoire of two-man act, Sizwe Banzi Is Dead. In the video world of Nollywood, Sam Loco took centre stage.
He was one of the best artiste Nollywood ever produced. Sam loco unarguably bestrode three generations of Nigerian Performing Artistes speaking basically all Nigerian languages. Sam Loco Efe, even after his death has become an international brand worthy of celebration.
As age began to show its face, Sam turned philosophical. Even in the dialogue that crept into his lines, he started to reveal his basic philosophy of life. First and foremost, he was an impulsive giver, giving out of his pocket without regard for the value of money. This is because he loved to share his happiness with others.
Sam loco was the father of six children including Mrs. Sandra Ebun Leonardo; Bola Adesuwa Efe; Bismarck Nosa Efe; Julia Orobosa Omozusi; Precious Osariemen Efe and Omoruyi Efe.