Where my heart lies –Vivian Ejike, leading Nollywood producer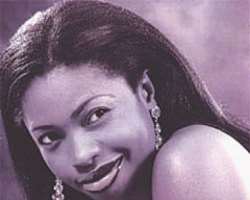 Consummate and effervescent female movie producer and linguist, Vivian Ejike, has, no doubt, made a huge impact in Nollywood, since her arrival more than a decade ago. As one of the most respected filmmakers, she has also produced and premiered most of her movies within and outside our shores. It's also an established fact that sexy Ejike's passion for tinsel town led to her quitting a thriving career as the head of private banking, in one of the nation's leading financial institutions, some years ago.
With close to a dozen quality movies to her credit, the French graduate from the University of Port-Harcourt, Rivers State is, however, not resting on her oars, as she intends to churn out more movies, from her stable. She also believes that Nollywood still has a lot to offer nationally and on the foreign scene, if an enabling environment was created, for filmmakers to thrive.
Ejike, who's currently preparing for the world premiere of her latest movie, 'Silent Scandal', in the US, UK and Nigeria respectively, told Daily Sun, it would definitely help reposition Nollywood. She also spoke on their flourishing distribution outfit, the vision that drives it and the many good things to come.
We would like to know some of the new things you are embarking upon soon
Currently, I'm working in collaboration with my foreign partners on how to premiere and release my latest movie, Silent Scandal. We are also looking forward to having the world premieres of the movie soon in the US, UK and Nigeria respectively. We want the premiere to be very big in Washington and New York, after which, we would storm the remaining places with equal bang. In fact, it is going to be a phenomenon and a showstopper too. We are aspiring to surpass what we did in Lagos and Abuja, with When The Heart Lies. Hopefully, the movie should be out nationwide between the end of September and beginning of October.
We would also like you to tell us more about the new movie of yours
Just as the name implies Silent Scandal is an explosive movie full of scandals, is a star-studded Nollywood movie produced by Purple Pine Production, which is my outfit. It will also be marketed and distributed globally by Nollywood Distribution Company, a strictly film and video distribution company, owned by Emem Isong and I. Stars in the movie include: Genevieve Nnaji, Michael Majid, Uche Jombo, Ebele Okaro and a host of others. Let me also say that my good friend and leading fashion designer, Zizi Cardow, alongside her models also did a cameo appearance in the movie. A young Nigerian filmmaker based in Los Angeles, US directed it. I wrote and screen played the movie also. I do not want to say much till the thought provoking movie hits shelves globally.
Now that Nollywood Distribution Company is fully operational, what would be the core values, vision and mission of the company?
As I said earlier, we are building a company that will be able to match the big film production companies in Hollywood such as MGM, FOX, Paramount and the rest of them. We want to stamp our name in the book of history in Nollywood and beyond. We want to also distribute our movies in all the nooks and crannies of this country and even around the world. To achieve this; we want to start from Nigeria, because the potentialities are here. We also believe that we are going to grow very big, in no distant time and conquer Africa and the rest of the world; I believe we have what it takes to achieve all these.
If you are to envisage, what would you say are the possible challenges you and your partners might encounter in your quest to make a head way with this outfit?
No doubt, there will be challenges, especially the Nigerian factor: the truth is that I enjoy this job, it is also what I like doing. And in life, if you enjoy what you are doing, you hardly feel any pain. Moviemaking is fun to me… I only see a big challenge arising when we eventually cross the borders because we might have to learn a bit about the new terrain and also deal with new people.
So, in essence, you support the National Film and Video Censors Board's framework on distribution policy?
The truth is that we support any laudable initiative that will make the Nigerian motion picture industry work effectively. Any good and legal idea, we would definitely support. We are out for the growth and improvement of the industry. Let me also state it here categorically clear that our company is out to help every right thinking moviemaker in Nollywood to achieve his or her goals and realize his or her dreams.
As long as the movies meet our standards, we are going to distribute.
But the truth is that we won't market below the standard movies, only quality movies that measure up to standards, if it's less, I'm afraid, we won't be able to market, because there is a standard.
We are here to unite instead of discriminating; we are also looking at a situation where we can partner with the existing market and structure on ground. We will work very hard and carry everybody along. We are working together for the good of the industry. Above all, we are not in competition with anybody; we want to carry everybody along. In fact, everybody is relevant to us. It truly hurts me that Nollywood is still at cross roads till date. I wish and pray that all hands are to the pump to move Nollywood forward, and that is when I feel we will do better.
Even though government has done little or nothing for us, we still appreciate what the Censors Board is currently doing…
What would you say makes Silent Scandal unique and different from the other movies on the shelves?
First and foremost, Silent Scandal, is a twisted family story and star-studded too with several Nollywood stars on board. It is also a very challenging job and my seventh as a solo moviemaker. It has a unique storyline with several new discoveries, which all helped to make the movie tick. Mind you, I was an undergraduate in '96, when I produced my first movie. Above all, it's a big budget movie with quality storyline and shot with the latest equipment. In a nutshell, it's a dramatic love story that revolves around the hidden and triangular love lives of a strict mum, her spoilt daughter and an indigent toyboy.
With all sense of modesty, it is another plus for Nollywood, especially now that the nation is preaching the gospel of re-branding.
As a very busy producer, how do you cope with challenges on set?
Sincerely, when I'm shooting, I tell people I enjoy myself. So, even though the challenges were enormous, I still do not feel it, indirectly, there were no much challenges for me whenever I am on set. I enjoy myself always, because it flows within me.
As a top moviemaker, what has been the secret of your success in Nollywood?
First of all, God, resilience, interest and passion in what I do, again consistence and hard work, because it pays to always work hard in life. Since my return, I try not to look at the material gains, but keep doing the job because I love it and have passion for it. I know that the benefits will come someday. I just love to keep working hard and can't stay with lazy people.
Do you still miss the banking world?
I do not think so; I left banking for Nollywood because of my passion for the industry and the arts. Then many people, even my parents viewed it from a bad angle and even urged me to go back to banking. But like I told you, I have a passion for the industry and movie making. Between 1999 and 2002 that I was a top player in the banking industry, my heart was still with Nollywood. I was in the banking world, but my spirit was with Nollywood. And at a point, I just said I was going to leave and just woke up one day and resigned. Many people thought I was taking a wrong decision because I was doing very well, but I stood my ground.
For resigning as the head of private banking, my people were totally against me, especially my dad, he was a banker for 30 something years, even my mother too. So, banking is a sort of a family tradition and I'm not a conformist. I know my calling is in the entertainment industry and not banking.
I do not intend going back, though I have been getting offers but I don't want to go back. I would have loved to go, but I won't get job satisfaction, especially the type that I'm getting from Nollywood now. I feel very good and happy wherever I see my movies on the shelves. I intend remaining in Nollywood for the greater part of my life. I'm not even sure I can do any other thing very well now, except moviemaking.
Why this so much passion for Nollywood?
I wish I could explain it but I can't, I think it started when I was a child. I was actively involved in drama while in primary and secondary schools. I have always been arts inclined.
I quite remember that my dad was a bit skeptical about it then, because he thought I was going to end up being a lawyer or a medical doctor or something related, in fact, something professional. But he has relaxed his skepticism about my love for the industry. He is now very proud of me after seeing that this is my life and what makes me happy. My parents are not domineering. My people and even the world are aware that Nollywood is where my heart lies.
Some of your fans would still like to know more about you and your family background
For the umpteenth time, Vivian Ejike is from Nri, in Anaocha LGA of Anambra State. I attended Federal Government College, Enugu. I later went to the university of Port-Harcourt and read French. I had a stint with the LOC 99, for my youth service. I worked briefly in a private company before going into banking. Currently, I run Purple Pine Productions, a wholly entertainment company with huge interest in filmmaking in Nollywood, while my partner and I jointly run Nollywood Distribution Company.
Did you go into banking then because of your parents' pedigree?
For me, going into banking was inevitable; I knew I would end up at the bank. Even though I knew I would go to the bank, it was also left for me to know if I would remain there or not. And of course, I stayed and tasted it before leaving. My parents did not force me into it.
Is there any of your movies you hold very dear to your heart?
I really don't know how to equate that because my previous movies had always been sold off. As far as I'm concerned, they are all the
same. As I told you earlier, it is not about money, but the passion for the job. I stopped the trading off thing with Saving Serah. I started marketing my movies after then, and it has been very rewarding.
As a pretty and leading female filmmaker, what is your strategy for coping with advances from men?
Men? Mostly, I try to convert my toasters to good pals, and it has really worked for me