ALAN SHEARER LAMENTS WAYNE ROONEY'S SUSPENSION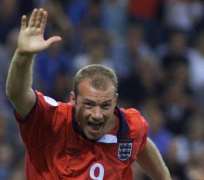 LONDON  (AFP) - Former England captain Alan Shearer said Wayne Rooney's suspension from the group stage of Euro 2012 was a 'huge blow' on Friday as Football Association officials mulled their response to the ban.
Rooney was given a hefty three-match suspension by UEFA on Thursday following his dismissal for violent conduct in England's qualifier with Montenegro in Podgorica last Friday.
The ban means Rooney will miss all of England's first round matches at next year's finals in Poland and Ukraine, leaving manager Fabio Capello with a selection conundrum ahead of the finals.
'It's a huge blow. It's not only a huge blow to the team, to the fans and to football followers but to Wayne himself because he realises he's made a stupid error,' Shearer told BBC radio.
'I still think whoever replaces him in the team, England still should have enough to get through the three games without him.'
The English FA said it would await the written verdict from Thursday's ruling before deciding whether or not to risk an appeal, which could result in Rooney's ban being increased if unsuccessful.
The severity of Rooney's suspension surprised many footballers and pundits, with former team-mate Phil Neville branding it a joke.
'Rooney banned for 3 games what a joke- if it was a Dutch Spanish Italian german player they wouldn't even get 1 game £fact,' Neville wrote on Twitter.
Tottenham manager Harry Redknapp, tipped as a likely successor to Capello, meanwhile said the Italian should exclude Rooney from every England international prior to the finals but still include him in his squad.
'Fabio Capello has to make a decision now,' Redknapp wrote in The Sun.
'And if I were England manager I wouldn't start Wayne Rooney in any international from now until the Euro 2012 tournament.
'But we should definitely still take him to the finals. England should be strong enough to get through the group without Rooney and then we'll have him raring to go in the later stages.'
'I was seriously shocked when I heard he'd copped a three-game ban for his kick at Montenegro's Miodrag Dzudovic.
'It is a painful, painful lesson for Rooney that he cannot do things like that. I have sympathy for him but those are the rules so he must accept it.'