STAR ACTRESS BISI IBIDAPO OBE DENIES BEING DUMPED BY HUBBY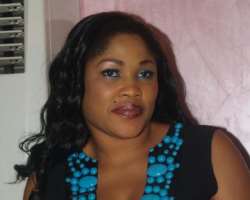 Contrary to the tale hovering around,ravishingly pretty actress,Bisi Ibidapo-Obe popularly called Omo Logbalogba,has refuted being dumped by her UK based hubby,simply addressed as Lekan Lopez,adding that it only revolves around the ambience of rumour.
The versatile role interpreter expressed dismay on the tale,labeling those behind it as blatant liars.She further described the tale as unthinkable and senseless.
I can't imagine that kind of a thing being said about me.It's unthinkable.I don't even need to comment on it because it is senseless and those telling you that are liars,they are insane.
Don't mind all those mad and irresponsible idiots spreading false rumour,my relationship is intact she fumed.
Bisi's response notwithstanding,tale abound that the wedding she contracted secretly with Lopez a couple of years back started developing hiccups months back on account of the fact that the star actress is yet to be pregnant.
The situation,tale bearers disclosed to us,didn't go down well with the family of Lopez who allegedly insisted that their son should call it quits with the Ilesa,Osun State born actress.And when there was too much pressure on him,he heeded their advice.
But when Bisi was contacted about it,she denied it all.