Bayelsa Raises Objection To Adoke's Invitation To Testify In Tenure Suit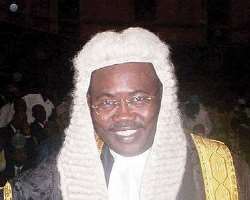 ATTORNEY GENERAL OF FEDERATION, MOHAMMED BELLO ADOKE (SAN)
ABUJA, October 12, (THEWILL) – The Bayelsa State Government has raised objections following the reported invitation issued the Attorney General of Federation and Minister for Justice, Mohammed Bello Adoke SAN as an amicus curie (someone, not a party to a case, who volunteers to offer information to assist a court in deciding a matter before it) in an appeal filed at the Supreme Court by the Independent National Electoral Commission (INEC) challenging the decision of the Court of Appeal which extended the tenure of five state governors beyond May 29th, 2011.
In a letter written to the Chief Justice of Nigeria, Justice Dahiru Musdapher by Chief Ladi Rotimi-Williams, counsel to Bayelsa State, the state drew the CJN's attention to the fact that the AGF was a respondent in the appeal.
He argued that a party to a case could not be an amicus curie in the same case.
"The law as it stands is that a respondent which the AGF is in this matter has no other role to play in an appeal, but to support the decision which has been appealed from.
"As a respondent therefore, unless the AGF has cross-appealed or filed a respondent's notice in respect of the decision, his role on this appeal is nothing but to support the decision of the Court of Appeal in question, " Rotimi-Willaims stated in the letter.
Five states benefitted from the decision of the Court of Appeal. The states are Adamawa, Cross River, Kogi and Sokoto.
Recall that the Supreme Court had last week allegedly issued invitations to a former Attorney- General of the Federation (AGF), Chief Richard Akinjide (SAN); a renowned constitutional lawyer, Prof. Itse Sagay (SAN) and the incumbent AGF, Mr. Mohammed Bello Adoke (SAN).