New Jersey's Christie Not Running For President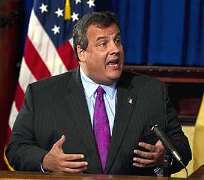 New Jersey Governor Chris Christie dashed hopes on Tuesday that he might make a late leap into the 2012 Republican presidential race in a move that sets up a final battle between Mitt Romney and Rick Perry.
Christie's 45-minute news conference to say that "now is not my time" gave voters a taste of what they will miss in not having him on the campaign trail, a straight-talking politician so comfortable in his own skin that he could laugh about news coverage of his ample waistline.
His exit will likely benefit former Massachusetts Governor Romney in the fight for moderate Republicans' support and leaves the Republican field largely set, since former Alaska Governor Sarah Palin is showing no signs of diving in.
Romney, chased from the front-runner position by Texas Governor Perry weeks ago, has now regained the lead after Perry's poor debate performances, as Republicans consider who is the more electable candidate against Democratic President Barack Obama in November 2012.
The field includes players from across America's political spectrum: Moderates Romney and former U.S. ambassador to China Jon Huntsman, and conservatives Perry, Herman Cain, Michele Bachmann, Newt Gingrich and Ron Paul.
The fight now will intensify as Republicans look to the first U.S. nominating contest, the Iowa caucuses, coming up in a mere three months, quickly followed by the New Hampshire primary and South Carolina.
"The Republican field is now set, the calendar is front-loaded and issues of engagement will now take on greater engagement," said Republican strategist Scott Reed.
Exiting stage right was Christie, 49, the no-nonsense governor who repeatedly said no to a run but felt compelled to reconsider based on a flood of entreaties from supporters from Nancy Reagan to a Nebraska farmer.
'YOU'RE STUCK WITH ME'
"I'm doing a job that I love in the state I grew up in," Christie said. "In the end, what I always felt was the right decision remains the right decision today -- now is not my time."
"New Jersey, whether you like it or not, you're stuck with me," he said, adding he has "unfinished business" as governor.
Christie left the door open to running in 2016 but shrugged off a question on whether he would consider being the 2012 vice presidential nominee, saying he did not believe "my personality is best suited to being number two."
The blunt-spoken Christie, 49, would have immediately energized a field that lacks firepower and that many party faithful are unenthusiastic about. Large undecided campaign donors may now be willing to back some of the established candidates.
Asked about the crop of candidates and which he favors, Christie said, "I'm not prepared to make any endorsement today."
Huntsman attempted to cash in on Christie's departure, with campaign manager Matt David saying Republicans need "a standard bearer who is willing to tell the truth to the American people, offer serious solutions, and have a record to back it up."
"Governor Huntsman is the only candidate in the field who fits that description," he said.
Christie dismissed talk he was only courted because the Republican field was weak. "I don't think it says anything in particular about the field. I like to think it says something about me. It wasn't my charm and good looks -- I think it was the accomplishments that we have in New Jersey."
While not impossible, it would have been a difficult challenge for Christie to raise money, enlist activists and build a nationwide team in time for the start of the nominating process, which is to kick off in early January with the Iowa caucuses followed shortly by the New Hampshire primary.
Had Christie run and won the nomination, it would have set up a contest between him and Obama, both populists who cast themselves as honest brokers who can move toward the middle to get things done.
Christie, a large man who struggles with his weight and was briefly hospitalized this summer after having trouble breathing, was asked if jokes about his obesity from late-night comedians had upset him.
"It's not a news flash to me that I am overweight," Christie said. "It is not something that bothers me, I am not self-conscious about it, I am self-aware."
But, he said, talk by pundits that his obesity was a sign of his personal lack of discipline was "ignorant" and only advanced stereotypes.
REUTERS