Love has been wicked to me – Nita Eze, Nollywood actress/producer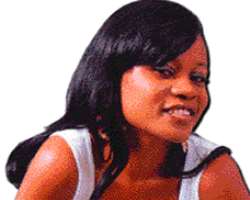 Despite that she is based in Abuja, the nation's seat of power, Nita Eze, a fast rising actress/producer is currently poised to make an impact in tinsel town with her fledging career.
Amazingly too, the slim thespian has two movies to her credit as a producer, with the third one almost completed, since she veered into film production two years ago.
Little wonder, she is among the new cropof starlets serenading the Abuja movie dome with her acting/producing resume.
Eze, a theatre arts graduate from the university of Calabar, also doubles as the in-house producer of De Atai entertainment, where she's gradually building a legacy.
Since her arrival in 2005, the Jada Pinkett look alike has consistently maintained that her passion for Nollywood is unrivalled and cannot be underestimated, despite the many challenges. Currently in a sizzling affair with one of the sons of Pa Anthony Enahoro, Eze would rather not talk on the romance, even though insiders are alleging that there are cracks.
Speaking with us, during a recent trip to Lagos, to tidy up a movie deal, Eze, also
a promising model, gave an insight into her burgeoning career, vision, the journey so far among other germane issues.
Long time no see, where have you been and what brought you to Lagos?
I've been around and working tirelessly in Abuja and sometimes Lagos, as an actress and a rising producer. Since the last time we met in Abuja, I have produced two movies: High School 1and 2 and Be Not Afraid, for our outfit, De Atai entertainment, which is owned by Dr. John Mgbere. We will soon be going on set to shoot our third movie. And I acted in the above two movies and would also be acting in the new project.
As you already know, Nita Eze is from Enugu State in Nsukka LGA. I was born in 1985 and had my nursery, primary and secondary schools in Calabar, Cross River State. I later went to the University of Calabar and read Theatre Arts. Aside acting and producing, I'm also a model. I am in town for some movie-related deals as well as some personal issues too.
For how long have you been working with De Atai entertainment?
I have been with them for more than two years, currently, I'm the house producer of the company, with two films to my credit, and the third one is already on the way. My boss, Dr. John Mgbere, is a man with so much passion for Nollywood and entertainment in general. And I cannot thank him enough for believing in me and also giving me the opportunity to excel not only as a staff, but also as his in house producer.
Why this so much passion for Nollywood?
My passion for the industry has been on for a long time, but the romance started in 2005 and a production manager with Annex Production greatly inspired my coming into Nollywood. While in school also, one of my lecturers also advised me to go into acting fully, but cautioned that I should be very careful too by not rushing into it.
My first movie was: Dancing Heart and that really exposed me. Currently, I have featured in more than 10 movies.
Why Abuja and not Lagos, where the action is?
Aside being conversant with the environment, my family is also based in Abuja. And besides, we have fewer actresses in Abuja, unlike Lagos, where everybody is acting.
Are you scared of competition?
No! Even though Lagos is tough and very competitive, I'm not scared, it's not even a challenge to me. I'm just used to the Abuja environment. At least, I now frequent Lagos, for movie jobs.
Though, it has not been easy, but we are trying our best. Again, the jobs do not come often and when it comes, the role you get will not be lead, because they usually bring the lead actresses from Lagos. Again, some of them look down on the Abuja actresses.
Any plans of relocating to Lagos?
As an actress, yes, because Lagos is the nerve centre of acting. But I'm not relocating permanently; I just want to shuttle in between, just I did now.
Moreover, the people in Abuja are truly lively and friendly, and if I relocate, I would miss them.
What actually got you attracted to Nollywood?
Aside reading Theatre Arts, the fact that I was always seeing stars coming to shoot movies in Calabar then, as an undergraduate also lured me in. In fact, at that moment, the passion to join Nollywood became so strong and I could not resist it. Sincerely, I love Nollywood so much and it has also helped to bring out the shining star in me. However, I started acting in Calabar and we have a family house there. We moved to Abuja not quite long. But you can now feel free to call me a fully based Abuja actress. But I still visit Calabar once in a while for productions. In fact, I just breezed in a few weeks ago from Calabar.
Did your parents endorse your sojourn into the industry?
Yes, my mum did and so far, she's been so proud of me and she's one of my backbones. In fact, my whole family has been commending me. They have been encouraging me too.
We would like to know more about your family?
I'm the second child in a family of five. My mum is from the south –south, while my dad is from Enugu, in the South-east.
How are you coping with Abuja men?
For me, advances from men are something I can and have always been handling. I handle them the normal way any good girl that is also responsible will handle a guy. They come but you don't expect me to keep a tab or record how many come my way on a daily basis. I think they also like my stature. I also like my petite stature. Often, people ask me the secret of my stature and I tell them is natural.
Are you still searching?
I'm not searching and will never search there is some body in my life, but I do not want to talk about him here. I love him so much but he keeps hurting me
Is that the Enahoro's son?
Please, I do not want to go into details, no, please.
But who is your ideal man?
My dream man, first and foremost, must be very understanding and God fearing. He must also be caring and hard working.
Is marriage on your mind?
Yes, but I am not desperate, my career first and that is uppermost on my mind now.
I want God to decide that for me. But hopefully, soon, I want to settle down.
Are there pressures on you to get married soon from your parents?
No, my family will never put pressure on me to do anything.
What distinguishes you from other rising actresses in Nollywood?
I think, I'm unique in my own way and also do my things differently from the rest of them. Again, I really don't care about what people say about me. I try as much as possible to do things that are right.
Can you bare it all in a movie?
That's not possible even with a trillion Naira, but I can play deep romantic roles in movies, mind you, its make believe.
What is the next level for you?
My plan is to take my career to the highest level in the next couple of years. I also want to be the most celebrated actress/producer around.
I'm also a fast rising model. I have done quite a number of jobs as a model. But most of my jobs are billboards and calendars.
Joke Silva and Onyeka Onwenu are my role models and I'm looking forward to working with them soon.
You are with De Atai Entertainment, are they doing enough, in terms of helping to further project your fledging career, as one of the youngest in the business?
They are the bomb; they have helped in taking my career in Nollywood to the next level. My boss, also counsels and packages me for the next level, I cannot stop thanking him and the outfit.
He recently told me that we would soon be changing the face of entertainment on the continent.
What if tomorrow, your guy, tells you to quit acting, would you?
He should love and support what I am doing. And by the grace of God, he will never think of toying with such unwholesome idea. He must support and encourage my career. But if he doesn't...
How supportive are Abuja moviemakers in terms of encouraging starlets like you?
They are trying their best, but we need them to do more for us, especially in the areas of good roles and acceptance.
If you were not into showbiz, what else would you have been doing?
I'm sure; I would have been a barrister, which was my first love.
Was your first kiss memorable or disgusting?
Whao! I truly and really enjoyed it.
What do you think the future holds for you and De Atai Entertainment?
I see a very bright future, even though we are still coming up. Abuja is very accessible, unlike Lagos, which is our biggest advantage. Soon, we will be storming Lagos.
We are looking forward to shooting a movie soon, in Lagos.
In your next world, would you still cherish to come back as an actress?
Why not, I love acting so much and I intend acting till I die. I hope also to work assiduously with De Atai Entertainment in my next world.
On a final note, what brought you to Lagos?
Nollywood and filmmaking of course, I'm in Lagos to tidy up some movie related deals, on behalf of De Atai Entertainment.