Central Bank To Hold Foreign Reserves In Yuan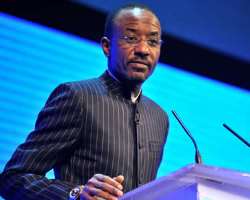 ABUJA, September 08, (THEWILL) – Beginning from the final quarter of the year, Nigeria will be holding five to 10 per cent of its foreign reserves in Chinese yuan, initially focusing on buying Chinese government onshore bonds, Central Bank Governor, Lamido Sanusi, said today. It will also consider investment opportunities in the offshore yuan market in Hong Kong, where the currency is fully convertible.
"We got an indication from the People's Bank of China that we will be able to get a quota to invest in the onshore bond market in Shanghai, and we will be able to take out the money when we need it. That's all the convertibility we need," he said.
Apart from the CBN, which will diversify about a tenth of its $32 billion foreign exchange reserves into the yuan, other central banks such as the Hong Kong Monetary Authority and Malaysian Central Bank have secured approval to invest in onshore bond market of the Asian giants. China has a closed capital account, and all inflows into its markets need prior approval from the People's Bank of China.
Sanusi explained that the CBN had decided to diversify its foreign exchange reserves since the beginning of the year, and China has been facilitating that decision. "They [the Chinese central Bank] are not going around asking people to convert their foreign exchange into renminbi [the other name for the yuan]. That is a decision we made by ourselves... they're not pushing anybody. If you want, you come. That's the impression I had."
He also said that the country's apex bank will be looking at the August consumer price data ahead of its next policy meeting later this month to decide on whether to tighten monetary policy further.
With the coming recapitalisation of three nationalised banks, more money is certain to be generated to save another five in September and October, and inflation pressures may be increased, especially as a good harvest brings down food prices, which makes up for much of the country's consumer price index, he said. "There are strong monetary impulses that may push inflation. The connectivity and fiscal spending would tend to suggest that there would be monetary pressures that might be strong enough to counter-veil any cyclical benefits from the harvest."
In July, the country's headline inflation unexpectedly plummeted to an all-time low (for three years) of 9.4 percent, following an aggressive period of monetary tightening by the CBN.