Celeb pixs from ENCOMIUM BLACK N WHITE BALL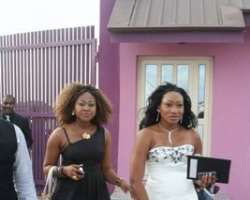 ENCOMIUM MAGAZINE had its black and white ball on sunday april 26,2009 and here are some celeb shots from the event.
The black and white ball has been dubbed by event addicts as the best event yet in 2009....dont think any event will meet the standard.
Enjoy the pics.
i dont like this white dress oge is wearing!
Stella.DK