BREAKING NEWS: NOLLYWOOD ACTRESS IBINABO FIBERESIMA SENT TO KIRIKIRI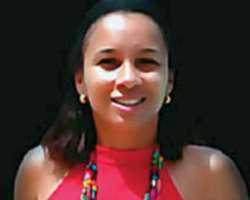 The ex-beauty queen, Ibinabo Fiberesima, who has been convicted for the murder of a Lagos medical doctor through reckless driving, appeared in court today as directed by the presiding judge, Justice Deborah Oluwayemi, and was sent to Kirikiri Maximum Security Prison.
The judge further ordered that the Medical Director of the prison should attend to her medical needs to ascertain her ailment.
Ibinabo broke down and wept as she was being led out of the court after the judge ordered that she should be sent to Kirikiri.
The lawyer, who appeared for her today, Mr. Fred Agbaje, withdrew the application for stay of execution of the judgement of the court and applied for bail pending the determination of the appeal at the appellate court.
The prosecution counsel, Mr. Lawal Pedro, did not oppose the application, rather, he said he will contest the appeal at the appellate court.
Justice Oluwayemi adjourned the case till 2 April 2009 for ruling.
A Lagos High Court judge had last Tuesday ordered that Ibinabo be brought before her irrespective of her health status, as she once again failed to appear before the court to defend her application for stay of execution she had filed.
The court had earlier sentenced Ibinabo to five years imprisonment without an option of fine, having found her guilty of murder through reckless and dangerous driving.
The convict, who was given an option of N100,000 fine at the trial magistrate's court, was sentenced by Justice Deborah Oluwayemi, after the Lagos State government had appealed the lower court's judgment.
But at the mention of her application for stay of execution of the judgment on Thursday, 19 March, her lawyer informed the court that Ibinabo was hospitalised in a Port Harcourt hospital. The counsel brought a sick report to buttress his claim.
However, Justice Oluwayemi rejected the medical report and ordered the ex-beauty queen to appear before her. She said her application for stay of execution would not be considered until she personally appeared before her.
Her lawyer, Mr. Ijebu Ode Agbarawu, told the court last Tuesday that the convict was still receiving treatment in the Port Harcourt hospital.
Delivering her ruling on Tuesday, Justice Oluwayemi ordered that a subpoena be issued on Dr. G. Harris of Braithwaite Hospital, Port Harcourt, who signed the medical report sent to the court on Thursday, 19 March.
She ordered that Ibinabo must be produced in court at the next adjournment date.
The Director of Public Prosecution (DPP), Lagos State, Mrs. Ayo Odugbesan, aligned herself with the court.
Thereafter, Justice Oluwayemi adjourned till 30 April for further hearing.
Ibinabo had gone underground and certainly not on admission at the Braithwaite Memorial Hospital, BMH, Port Harcourt, when http://nollywoodgists.com visited the BMH female medical ward where she was said to be receiving treatment.
A source said: "it sounds strange that Ibinabo Fiberesima, a popular personality, a former beauty queen and a Nollywood star can be on admission in a hospital such as this and it would be hidden."
Interestingly, our contact who knows her very well called her mobile line and she answered her call but refused to disclose where she was answering the call.
Our contact said he wanted to pretend to be sympathizing with her over her recent travails and to prove that Ibinabo had merely gone underground and "not critically ill" and also not on admission at BMH as widely circulated.
Ibinabo played active role during the Rivers State Cultural festival tagged RIVIFEST and ECOWAS beauty pageant as consultant to the Rivers State.