BRINGING SEX Y BACK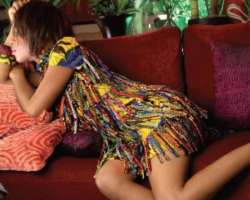 Tonight is the night. You have a hot date, or you've been invited to the event of the year and you know your ex will be there. You want to look beautiful! Hot! Sexy! Never fear, here's how to make people go 'Wow!' when they see you:
The Eyes
Keep your eyebrows well-groomed and enhance them with short, feathery strokes of an eyebrow pencil. A deep brown pencil suits most black women.
Cover up dark under-eye circles with a good foundation or concealer so you look wide awake.
If you have large eyes and love them, all you need is a bit of black eyeliner on the top eyelid and mascara on the top and bottom lashes.
The smoky eye look is practically synonymous with 'sexy' but if you opt for this look, keep the colour on your lips toned down.
The Lips
If your lips are your best feature, focus on them and keep the rest of your make-up subtle.
Gloss is probably the simplest and quickest way to draw attention to the lips. Make sure yours is never far from you.
Always line your lips with a lip pencil that is the same colour as your lips. That way, when your lipstick fades, you won't be left with an irritating-looking ring round your mouth.
Chapped lips are the enemy. Keep lips soft and smooth with a good lip balm. Avoid using Vaseline as lip balm. It slides off quickly and leaves your lips feeling drier than ever.
The Legs
Smooth legs are sexy legs. Keep your legs fuzz-free with a shaving stick or depilatory cream.
Exercise to keep your legs looking toned.
Take a break from high heels once in a while. Ballet pumps are pretty, comfortable, and are very 'in' now.
Peep-toe heels are as definitely sexy but that sexiness is greatly reduced if the toes peeping out of the shoes have dry, white patches and the nail polish on them is chipped. Keep up with the pedicures even if you do them yourself at home.