I HAVE FOUND REAL LOVE AFTER MY CRASHED MARRIAGE.STAR ACTRESS LEPA SHANDY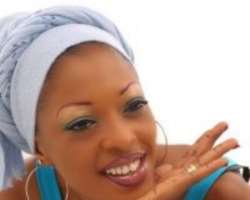 IT is not longer news that popular Yoruba actress Folashade Omoniyi otherwise known as Lepa Shandy has called her marriage with Kassim her husband of close to a decade, quit. What is news is that the trendy actress and star of 'Breaking Point', 'Feyi Pitan', 'Enitan', 'Oyato', 'Owo Ajanu', 'Iyawo Elenu Razor', 'Back To Africa', 'Omi Ewuro', 'Yeye Oge', and 'Il anu Oluwa' has found what she described as 'real love again.' The fair complexioned and notable actress who has starred in countless movie productions revealed from her current holidaying base in Dublin, Ireland that not only has she found love again, she has also finally closed the chapter on her former marriage.
Where have you been since you declared that your marriage was over?
I have been in Europe. And presently I am in Dublin (Ireland). I have been trying to sort my life out. I actually came here to rest. I have been working in the last couple of months and I think it is time to rest. I mean after all, they say all work and no rest...I will leave you to complete it.
So your trip abroad has nothing to do with your failed marriage?
No, it has absolutely nothing to do with it and also it has nothing to do with my trying to run away from pressure that would be mounted by my parents on me to return to my former husband; no, nothing like that. My parents never even supported my past marriage and they never pressured me to go back. Yes, my mum tried before she died; she did everything she could but when it got to a stage that things were not really coming out the way she expected, she gave up and allowed me to take my own decision. I am the one that was wearing the shoe so I know where it pinched. So, my marriage is over. I tried to make it work, but my husband frustrated all my efforts. Even when he stopped communicating, I still continued and twice I went to London to see how we could make things work but they just didn't work. So, now I'm single again, but I'm not searching, I need time to sort myself out and have my peace again.
So you are not going back even if he wants you back?
No way. I don't say good night and say good morning at the same time. Once I say good night, I don't say good morning again. I don't think it will happen and if he does, I don't think I would want to go back. I have had it up to my head.
But was it your job that was the problem?
No, it had nothing to do with my job. I met him before I joined the industry, so it couldn't have been because of my work because he understands how we work in the industry. It is due to irreconcilable differences. I don't want to discuss the reason for my crashed marriage on the pages of a newspaper. We had issues that we couldn't sort out. That is just it. My marriage crashed so many years back, but I was trying to manage it. It was when I couldn't manage it again that I decided to make it open late last year. I have been living with it for many years and I didn't run. Is it now that I will run? My coming here is a personal decision I took to come and rest
So have you found love?
Yes I am in a relationship but I want to keep it out of the papers. I have found love. I mean somebody asked me recently if I would ever love again and I said why won't I love again? Would you say that because your car had an accident on the road, you wouldn't drive again? Because one's marriage crashed doesn't mean another one won't work out. Of course I will love again and I have indeed found love.
Now let's leave your marriage for now and talk a bit about the secret of your beauty. What is the secret?
Funny enough, there is no secret to it. It is just the grace of God and I don't spend much looking good like some people will think. When you have the grace of God in you and you eat right and rest well, you will look good. I don't even feed much and I don't do much exercise even though I take occasional walks to keep fit. I eat healthily but I am not a food person too. I am a very simple person, so I try to keep it simple. I buy whatever suits me. I love shoes, yes, but I don't have a particular fashion item that I like so much. I also like to cut my coat according to my material and not according to my size.
So would you have done up to say a hundred movies?
I can't say how many movies I have done but I know I have done quite a lot and in terms of my all time movie, I will pick Lepa Shandy as number one. I quite appreciate that movie because it brought me out and gave me an alias that has stuck. But, I quite appreciate every movie I have done. Every movie comes with its own challenge. So you wouldn't want to say this is the most challenging. But Lepa Shandy will remain indelible because it was my big breakout movie and the director really brought out the best in me. Feyi Pitan was another challenging work. We went through hell working on that movie. I had to go through some task and it really affected me. In fact, I lost a pregnancy on that set, a reason I will never forget the experience. So Lepa Shandy will remain my all time favourite. You can also see that Lepa Shandy has become my other name. Some people don't know my real names. They call me by my stage name. But what can I possibly do? I can't stop them from calling me any name they choose to as long as it is my stage name.
Would you say you have found acting rewarding?
Well averagely. Some jobs may be rewarding, some will not be. You know how it is in our industry where you will have to work most times for almost free. But averagely, I will say it is okay and it can be better. That explains why most of us have dabbled into productions. Because what you are offered as an actor or actress is nothing to write home about. You cannot just fold your hands and say that you want to depend on acting alone. But it is rewarding, I mean to the extent that it opens doors.
However, it has its pains, part of which is the gossip press. They don't celebrate our success. All they are interested in how we live our lives. I will tell you the truth; I am not finding the activities of these gossip press funny at all. You can imagine that I left the country just for a few weeks and all I got from them are lies that I ran after an Alhaji that is spoiling me with money and gift. Haba! They have been writing all false things about me. If my new friend is not determined to be with me, don't you think he will feel discouraged, with all these tales they are bandying about me? It is not fair. They should celebrate us and commend our contributions to the society, not take pleasure in celebrating crisis and falsehood.