Lepa Shandy Back For Business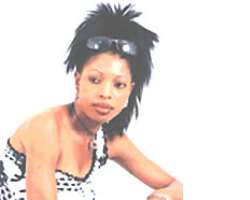 SKIMMY actress, Shade Omoniyi Kazim, otherwise known as Lepa Shandy, is now in town after her three-months sojourn in the United Kingdom.
Movie People learnt that the Osun State born actress breezed in a couple of weeks ago and has since resumed to what she knows how to do best.
Lepa Shandy said that her priority now was to face her acting career and business squarely. "I am truly back, I only had to take my time to rest a bit and that is why I've not been attending functions since I came back. Now, I am back in action," she said.
Speaking about her latest film, Lepa Shandy opined that the film will soon come to the market. "You know, going to locations, recording the film and come back to the studio, has been challenging. But despite this, my fans should be expecting the best from me."
Speaking about her marital life, Lepa Shandy said it's been good though it has its ups and downs. "As you can see, I'm just arriving from London where my husband stays. I went there to spend some time with him and we were together all through. I really enjoyed my stay."
When asked about her fulfilment, she said "somehow, I wouldn't say yes, but I'm okay to a certain level. I'm not yet fulfilled because I still have much to do."
She also told Movie People that she can't predict where she would be in the next five years saying, "I cannot predict it but I'm sure I will be where God wants me to be. An adage says we shouldn't be anxious of the future. I leave everything to God, let Him take me anywhere."
The pretty actress told Movie People that what makes her cope with the stress of being a wife and her acting career is because her husband is a very supportive person when it comes to her profession. "Because of my husband's understanding, I've been able to combine the two together."
Lepa Shandy who has produced three films Omi Owuro, Akamo and Ifihan said Gbenga Adewusi's production where she played the role of Lepa Shandy brought her to lime light.