WHY LAGOS DEPUTY GOV.JOKE ADEFULIRE'S MARRIAGE CRASHED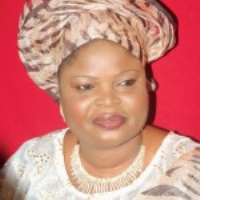 That Lagos State Deputy Governor, Her Excellency, Joke Orelope-Adefulire dumped her first husband and father of her four children(one died) Toyin Kembi,a driver with Lagos Orthopedic Hospital,Igbobi,Lagos,like bad habit and ran away to her father's house,Alhaji Saka Orelope at Idimu Area, Lagos is a stale news.
Be that as it may, millions of Nigerians are not cognizant why the former lawmaker and Commissioner's marriage crashed like a tokunbo car engine.
But we call tell you why. Family members squealed to us that the driver husband who now lives in a slum around Orile-Agege area of Lagos State used to beat the hell out of the humble and hardworking deputy governor.
The insider said though then the couple were living in face me and face you apartment but Joke was a hardworking hair dresser who was loyal and submissive to the driver husband yet, the man turned her to a punching bag and she couldn't take the frequent blows and kicks any more, she relocated to her father's house with her three surviving children.
Our source added that the deputy governor has been solely responsible for the upkeep and education of the children over the years. The ex-husband has since remarried and the new wife Mama Nike runs a local beer parlour at the front of the ramshackle house where they live at Orile Agege area of Lagos State.
We were told that the good Lord put a smile on the Deputy Governor's face when Barrister Adefulire came to rent an apartment for his legal practice at the father's house and before one could say Asiwaju, Joke and him fell in love and slammed him with a set of twins.
Thereafter, another child followed. The lawyer who was married with no child to show for it simply formalized his dalliance with Joke and life for the duo has been in cloud 7 since then.
Though the first husband has been shouting on the rooftop that Joke has denied him access to his three grown up children, the deputy governor's family members said he should shut up his wide mouth and thank his stars that he had an ex-wife who is financially solid or else he would be begging for money now to pay his three children school fees in pounds and dollars.
click the link below to go to...
EXPOSED;LAGOS DEPUTY GOVERNOR JOKE ADEFULIRE'S HUSBAND LIVES IN ABJECT POVERTY(GLOBAL NEWS HEADLINE)