Jonathan, Tambuwal Extol Late Ume-Ezeoke's Qualities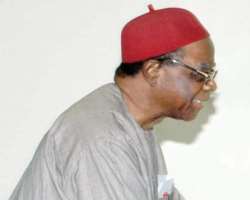 LATE CHIEF EDWIN UME-EZEOKE.
ABUJA, August 03, (THEWILL) – President Goodluck Ebele Jonathan today said he received with immense sadness and a deep feeling of national loss, news of the death on Monday of the former Speaker of the House of Representatives and foremost Nigerian politician, Chief Edwin Ume-Ezeoke.
Also, the Speaker of the House of Representative, Rt. Hon. Aminu Waziri Tambuwal has described the death of Edwin Ume-Ezeoke as a rude shock and monumental loss.
President Jonathan in a statement Wednesday extended his heartfelt condolences to members of the Ume-Ezeoke family and the All Nigeria Peoples Party (ANPP) and joined them and other Nigerians in mourning the passing of Chief Ume-Ezeoke.
Jonathan urged members of his family, relatives, friends and political associates to take solace in the knowledge that he lived a very fulfilled life and made very significant contributions to the political development of Nigeria.
He said he believes that late Chief Ume-Ezeoke's place in Nigerian history has been secured by his exemplary commitment to national peace, unity and political stability which served the nation very well on several occasions over the long span of his political career , the most recent being his patriotic role as Chairman of the ANPP.
The President prayed that God Almighty will comfort late Chief Ume-Ezeoke's family and grant him eternal peace and rest from his earthly labours.
On his part, Hon. Tambawal said the late former Speaker and elder statesman will be remembered for his political doggedness and legislative experience which endeared him to millions of Nigerians across ethnic, religious, political and ideological divides.
He described the late Speaker as a loyal party man whose style of politics was unique and worthy of emulation.
The Speaker further commiserated with the Governor and people of Anambra State, and the South East in general as well as the All Nigeria Peoples Party (ANPP).
He said the former ANPP national chairman died at a time his experience was needed in the country to wade through the many challenges militating against the polity.
"His Excellency Chief Edwin Ume-Ezeoke has left us at a very difficult period. This is the time we need his experience and fatherly advice. We will certainly miss his statemanly conduct and patriotic contributions to issues of National interest."
The Speaker assured that the present House of Representatives acknowledges the invaluable contributions of the late politician to the development of democracy and nation building.
He prayed God Almighty to repose his soul and grant the family the fortitude to bear the irreparable loss.