2014 WORLD CUP: SIASIA CELEBRATES BUT . . .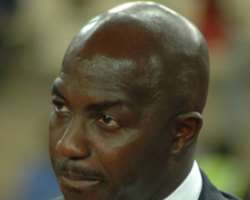 'We couldn't have had it better,' he said in Brazil shortly after the draws at the weekend.
NOT A LAUGHING MATTER – Siasia
After the event, Siasia left for Columbia to watch Nigeria's match with Guatemala in the FIFA Under 20 World Cup. Nigeria won 5-0.
But he bared his mind to us first before he boarded the plane. He warned against complacency:
'It couldn't have been better,' he repeated before adding 'but you know that there are no more minnows in football. You will be underrating any team at your own peril. We will take all the matches seriously. We will give our all in those matches.
Remember when you top your group there will be another round where you will play one more country to qualify for the World Cup finals. We need to  win well in group games so that the confidence will be there. These draws are not bad but we shouldn't  go to sleep. We will plan well and do our best in the games.'
At the draws in Brazil was also Chief Mike Umeh, the Vice President of the Football Federation.
'We are in a good group. This is encouraging. This group is good but only those who work hard go to the world cup finals no matter their opposition. This is the message we should bear in mind during the qualifying matches,' Umeh said.
Malawi topped the group that included Tunisia in the qualifying series for the 2010 Nations Cup in Angola. Football is generating national consciousness in what they see as soccer revolution in their country now. Kenya have always been a difficult side at home to Nigerian teams. The weather factor has always counted.
These are facts that should guide the Eagles while they enjoy their rating as group favourites.
FIFA U-20 World Cup fixtures
Today
Argentina       vs     England                2am
Brazil       vs       Austria               2am
Uruguay       vs      New Zealand     11pm
France         vs        Korea Republic   11pm
Wednesday
Colombia          vs       Mali              2am
Portugal         vs      Cameroon              2am
Ecuador          vs     Spain              11pm
Saudi Arabia   vs       Guatemala          11pm
Thursday
Nigeria          vs      Croatia               2am
Australia          vs       Coast Rica               2am
Mexico         vs      England              11pm