Suspected Islamists Kill 13 In Nigeria Police Attack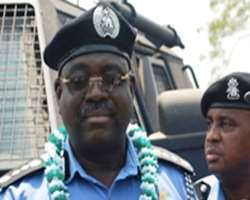 INSPECTOR GENERAL OF POLICE, ALHAJI HAFIZ RINGIM.
Suspected members of a radical Islamist sect attacked a police station in northeast Nigeria with explosives and assault rifles on Friday, killing at least 13 people including civilians, police said.
The attackers detonated explosives and opened fire on the divisional police headquarters in Damboa, around 100 km (60 miles) south of the northeastern city of Maiduguri. They also attacked a nearby bank and police barracks.
Police commissioner Mohammed Jinjiri Abubakar blamed Boko Haram, a radical sect whose members have been responsible for almost daily killings in recent months, including frequent attacks on policemen, soldiers and local leaders.
"Police and military personnel have mounted a massive manhunt to arrest the more than 70 Boko Haram members believed to be involved in the attacks," Abubakar told Reuters.
Police Deputy Superintendent Abba Lawan Kirawa said 13 people had been killed in the attack, including eight civilians.
Boko Haram, whose name means "Western education is sinful", wants sharia (Islamic law) more widely applied across Nigeria but its views are not espoused by most of the country's Muslim population, the largest in sub-Saharan Africa.
It is unclear how many followers the group has but poverty, unemployment and a lack of education in the far northeast have enabled its leaders to build a cult-like following which is as much violently anti-establishment as fervently religious.
Sect members launched an uprising in 2009, attacking government buildings and leading to days of gun battles with the security forces in which as many as 800 people were killed.
The persistent insecurity in one of Nigeria's poorest regions -- near its northeastern borders with Cameroon, Chad and Niger on the southern edge of the Sahara -- risks becoming President Goodluck Jonathan's biggest security headache.
The group was blamed for a series of explosions at police stations last week and security in the capital Abuja has already been tightened ahead of Jonathan's inauguration on Sunday following his victory in April elections.
Reuters.