JONATHAN EXPRESSES CONFIDENCE IN INEC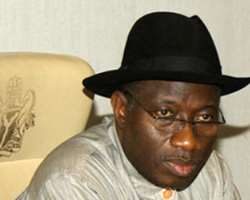 Jonathan Goodluck
President Goodluck Jonathan said on Tuesday that the development that led to the postponement of last Saturday's elections notwithstanding, he is confident that Independent National Electoral Commission Chairman, Prof. Attahiru Jega, would live up to expectation.
The News Agency of Nigeria reports that Jonathan expressed confidence in the INEC boss while fielding questions from journalists at a photo exhibition organised in his honour at the Yar'Adua Centre, Abuja.
The President said that Jega had his support and he was optimistic that Nigeria would get it right by conducting credible, free and fair elections this year.
Jonathan said, 'Jega has my full support, the day I no longer support him, I will of course raise the process of removing him.
'You know that of course, if he is no longer performing well, I will communicate to the National Assembly to terminate his appointment. Until I do that, I am fully in his support and I know that he will do well.'
The President said the postponement of the parliamentary elections by INEC demonstrated 'that the electoral body is totally committed to the conduct of credible elections.'
He said INEC had the alternative of going ahead with the poll without the result sheets to later enter the results at the collation centres, but it did otherwise.
He said, 'What arrived late were the result sheets. The result sheet could have been distributed that night to everybody or probably late in the night and they could have entered the results.
'That would have meant that, at the polling units probably, they would have taken the materials to the collation centres where they would have entered the results and that is what we are against. That is what INEC is against.
'We want to make sure that all results are entered there at the polling units and distributed to all the agents of the political parties and the candidates.
'So, if INEC wanted to conduct elections that could have been queried, it could have gone ahead to conduct the elections.
'What happened is another demonstration that the country and the electoral body are totally committed to ensure that they conduct credible elections.''
Jonathan appealed to Nigerians not to be discouraged by the development, but to regard it as a sacrifice to the country.
'It is a sacrifice that all of us are paying. I was also in the village, but I had to come back.
'We really regret what happened. A number of people spent money to go to their homes to vote, unfortunately it was cancelled,'' he added.