Fashion Face-Off | Jackie Appiah vs Nadia Buari at the F.A.C.E List Awards New York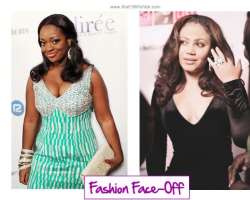 It's the war of Gollywood's finest today…as I've decided to pit Jackie Appiah and Nadia Buari against each other based on their appearance at the F.A.C.E. List Awards Launch in New York. Both ladies were among a number of African celebrities at the event.
In the left corner we have dark beauty Jackie Appiah in an embellished sheath dress by Ghanaian label Jil Boutique by Anne Marie Adoley Addot's.
And in the right corner we have Nadia Buari in a slinky low cut black gown which was designed by her mom – I wonder about the authenticity of this info tho…only because Nadia was caught out lying misrepresenting the truth about her red carpet fashion…recently claiming she wore an Oscar De La Renta creation to the Pan African Festival…needless to say it wasn't.
Both ladies look great and I can't decide who wins it…Nadia's dress is more my style, Jackie's hair is a little off but her accessories are banging, especially that cute LV clutch.
You decide…who wins this fashion face-off?