GOD WILL JUDGE JEGA - NORTHERN VOTERS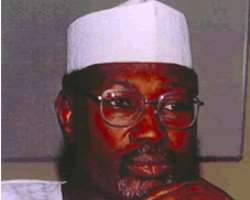 Jega
Eligible voters in Badarawa area of Kaduna, who had besieged the various polling units as early as 6 a.m. to vote for candidates of their choice rained curses and abuses on the Independent National Electoral Commission (INEC) Chairman, Professor Attahiru Jega, in a fit of anger. They also did not spare the Federal Government over the shift in yesterday's election, shouting 'Allah ya isa, Allah ya isa' (meaning God will judge you).
However, Kaduna State Governor, Patrick Ibrahim Yakowa, has appealed to the people of the state to be patient and calm over the postponement, saying that a day or two shift was not too bad.
He had hardly arrived his polling unit, Angwa Madaki, in Jema'a Local Government, about 1p.m for accreditation, when news of the shift came.
This is even as former Kaduna State Governor, Abdulkadir Balarabe Musa, described the postponement as a PDP agenda to have a third term in office.
But, National Coordinator of the Independent Election Monitoring Group and Alternate Chairman of the NBA Election Group, Festus Okoye, said Monday as the new date was not feasible, asking INEC to merge the postponed election with that of the presidential election billed for coming Saturday.
Musa, who is the governorship candidate of PRP, said that since the 1999 Constitution allowed the government in power to remain in office till an election is conducted, the PDP government is doing everything within its power to truncate the elections and have another term in office.
Hear him: 'What this means is that the PDP is going to have a third term in office. The 1999 Constitution says when an election fails to hold, the governors and the President should remain in power till such a time elections are conducted.
'By May 29, the President and governors will continue and you know that the National Assembly will not allow them to continue without them, and so they will go and amend the constitution to take care of themselves, too.' He described the decision as 'very tragic', asking: 'how can this mess be corrected and how can parties have money to mobilize their supporters for the elections on Monday? Only PDP can afford to do that and they want to get power by hook or crook. At the moment, it is left for Nigerians to decide what the next line of action to take.'
Vice President of the Nigeria Labour Congress (NLC), Issa Aremu, said the INEC Chairman must tell Nigerians those contractors that failed to deliver on their contractual agreement, which led to this unfortunate postponement of the National Assembly elections.
He noted that it was disappointing for Nigerians to turn out en masse only to be told after several hours that the election for which they had shown so much enthusiasm was no longer taking place without anybody being held responsible for the failure.
The Labour leader further said that INEC must take concrete steps to ensure that what happened does not repeat itself again, adding that it was capable of leading to the kind of uprising currently going on in the Arab world. 'INEC cannot call us out on a Saturday morning to come and vote and when we are ready to do that, you come and say no, it has been shifted. That is unacceptable.'
Okoye, on his part, said: 'We are not happy over the development, but what we are saying is that rather than Monday, the poll should be shifted to Saturday, so that we can combine it with the Presidential election. This is very important because it will enable INEC to reassess its strategies, reassess its operations and put measures in place to confront the challenges. Because if anything goes wrong on Monday again, nobody can tell what the consequences will be.
'Jega cannot be everywhere, what are the supervising officers doing? Why should electoral materials not get to their destinations on time? For example, in Kaduna, what happened to the list of youth corps members that were trained for this exercise? Why should their names be swapped with strange names? Somebody is responsible for all these and so there is the need to reassess the situation before going ahead with the elections. This is even important, considering the fact that the electoral officers could not break polling units to accommodate the Modified Open Ballot System. So, if this is not working, we can change it. This is my view.'
Also reacting, NLC President, Abdulwaheed Omar, said he felt very bad and shocked about the incident that prompted the postponement, adding: 'I hope INEC will take steps to counter the problem before Monday. I spoke to Jega on phone just before the postponement and he assured that the problem would be rectified.'
A Congress for Progressive Change (CPC) House of Representatives candidate for Zaria constituency, Dr. Abbas Tajudeen said, we have never experienced election problems like this before in the past, where materials are not available in most places. There cannot be credible election if we had gone ahead with voting. I think the postponement is the best even though it is at a great financial loss, especially on the parties because we have to pay agents again and make provision for another logistics.'
Meanwhile, in Kaduna North senatorial district, with headquarters in Zaria, irate youths numbering about 500 beat and stripped naked a man suspected to be in possession of ballot papers at a polling unit in Durumin Maigarke in Zaria. Even a unit of policemen could not rescue the suspect. They tore his dress and used it to tie him.
Also, some youth corps members in the area alleged that INEC was trying to manipulate the posting of ad-hoc staff by using fictitious names against their call-up number.
One of the corps members, who does not want his name in print said, 'We can have similarity in names, but we cannot have similarity in KD numbers. Therefore, we cannot agree to their attempt to use our numbers against anyone's names because we will be held accountable over any irregularities, as our numbers are traceable to the original owners.'
Efforts to reach the local government electoral officer for comment proved abortive as he was said to be busy dispatching election materials.
In Kubau/Ikara federal constituency, there were no electoral materials at all; in fact, voting had been postponed there three hours before the official announcement postponing the entire exercise.
Earlier, the Emir of Zazzau, Shehu Idris, after his accreditation at 11a.m. called on all eligible voters to elect the people of their choice so as to ensure Nigeria achieves political stability.
From the Southern senatorial district came a report that students besieged INEC office, claiming that they were recruited by INEC and trained in Ahmadu Bello University, ABU, Zaria, for the polling job.
According to some of the students, they were surprised that their names were missing from the original list. This development, Sunday Sun gathered, led to commotion and rowdy session in most of INEC zonal offices visited.
Sunday Sun later saw the aggrieved students compiling fresh list of their names allegedly on the orders of INEC officials. Pushing through the crowd to speak with INEC officials proved abortive. There were delays in releasing voting materials to wards in the zone. But accreditation of voters began after 11a.m. in Kaura Council, while the rest eight councils before the postponement had not started accreditation.
In Kaduna Central senatorial district, the situation was not different. Those whose names were pasted in INEC's office as ad-hoc staff were entirely different from those who went for training, only for some of the corps members to be recalled back on phone to get set for the exercise, even when their names were not on the list of ad-hoc staff INEC released.
In most polling units visited, accreditation did not start until about 11 a.m., even though most eligible voters besieged polling units as early as 6 a.m.
However, in some polling units, apparently due to the fact that accreditation did not commence by 8 a.m. as stipulated by INEC, accreditation and voting took place simultaneously in spite of objections raised by some eligible voters that it contravened the procedure, as announced by INEC chairman.