Dude Style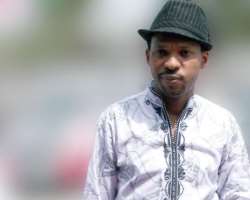 Alariwo Cross Over artiste, Rotimi Martins popularly known as Alariwo of Africa spoke to ANGELA DAVIES on his peculiar African style.
What is with you and bowler hats and African fabrics?
I am from the Niger Delta. I am a complete Delta boy and I can't hide, so I have to project my culture.
Favourite fashion designer local and international?
I do not have a fashion designer. I have a maker because he makes my clothes. His name is Azuka Dakoye. He owns a fashion house called Lavon Fashions. Interestingly, he happens to be my elder brother and he makes all my clothes. Is there any fashion house called International? Well, my name is Alariwo of Africa and I wear only African fabrics and I project only Africa culture.
Best perfume
I have a problem with perfumes. I mix them. Right now, I am wearing three different perfumes. There is joy in mixing them. People will say I like your perfume, what is it called? I tell them it is called about to know. It creates curiosity.
What fashion accessory can't you do without as a man?
My wristwatch. Everything I am wearing is cheap, but my wristwatch is not.
Your kind of shoes
I don't wear shoes all the time. I only wear shoes when I am performing or anchoring an event. I wear sandals. But most of them are even more expensive than my shoes.
Best colour
I love black. I am fair in complexion so it brings out my colour.
Tattoo on body
God forbid bad thing. At 42? Am I going forward or backward? I am not one of those guys that sag. For God sake I am a legend in the industry. I am not filled with stupidity. Why would I wear tattoo? What for? The least I can do is just braid my hair which is African. Any time I am shooting a video, I braid my hair.
Describe yourself in three words
Simple, blunt, down to earth and no nonsense person.