THE AUDACITY OF IDEAS IN IMO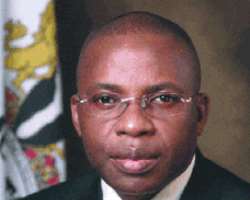 •Gov. Ohakim
Nothing in life is so hard that you can't make it easier by the way you take it (Lena Horne)
The beauty of any society is the ability of its leadership to translate ideas into reality. This is achieved when there is a pragmatic and efficacious means of trouncing any wanton, warty obstacle baying for failure.
Leaders who excel in over-coming seeming, burly challenges are usually regarded as trail-blazers. When in 2007, Dr. Ikedi Godson Ohakim, mounted the saddle, he apparently met a state already benighted by intractable environmental and socio-economic hazards.
For instance, Owerri, capital of Imo State was reeking of filth that formed unpleasant mountains all over the city. Basic infrastructure were lacking. Deplorable roads dotted the length and breath of the state. Gale of hopelessness and lethargy was surreptitiously rendering the state comatose. The creative and innovative savvy to salvage the situation was seriously lacking. Imo, sadly, could not guarantee her citizens (especially the youths) any bountiful future. Having seen all these, Ohakim tearfully retreated and re-emerged with a golden marble inscribed: 'New Face of Imo', where all his ideas were masterfully planned.
With the 'New Face of Imo' initiative, Ohakim believed that Imo would be rebranded re-established and re-engineered into a state of excellence flourishing in all spheres of life. With almost four years on the line, history has recorded Ohakim as one of the most audacious leaders the state has ever produced. For no sooner had he struck the chords of 'New Face of Imo' than he swung into action.
Walt Whitman, a great American poet in one of his works postulated that 'great things are done when men and mountains meet.' This was the situation in 2007 as Ohakim laboriously but audaciously confronted the various socio-economic problems limiting the emancipation of Imo with the New Face of Imo propeller. In no time, the 'Waste Land' that was Owerri was turned into a salubrious city.
And today, Owerri assumes the status of the cleanest state capital nation-wide. At that same period, public transportation was over-hauled with the banning of commercial motor-cycles in Owerri and the introduction of brand new buses and cabs that plied the beautiful terrains of the town. The private sector has since keyed into this pleasant revolution hence, Owerri has a standard public transportation system. This was thought impossible initially, though.
The unprecedented impact on road construction stems from the fact that no economy survives with inadequate transport infrastructures. Today, Owerri has been ambitiously transformed so much so that Imolites returning last yuletide could not recognize their routes. For instance, Ohakim has fulfilled the New Face of Imo promise of dualising all roads leading to the city. With all these roads completed, and laced with ornamentals and street – lights, the state is now open to be explored by tourists and investors.
Beyond Ohakim's unparalleled strides in security, education, job creation and other social infrastructure, the Imo wonder-lake initiative is one gargantuan project that will swell the economy of the state. Amongst the immediate benefits is the fact that over 20,000 youths would be employed in the first phase.
Somebody's mouth could be agape on reading this, but the truth is that a feat of this magnitude was hitherto thought impossible. Indeed, the New Face of Imo blue- print has transformed our Imo so much so that a beautiful future has been secured for the unborn Imolites; after all, Prof. Chukwumemeka Ike reminds us that 'Our children are coming.' Already, the ground-breaking ceremony of the wonder-lake has been done and work has begun in earnest.
They have forgotten that the New Face of Imo has institutionalised a paradigm-shift from the atavistic ways that brought only doom to Imo. Interestingly, this feat has won the governor an unprecedented armada of fans.
Now that our Imo is working again; now that our Imo is breathing again; now that our Imo is bouncing again; now that our Imo is blazing the trail again; now that our Imo is vibrating again; it is only advisable that we keep up the tempo by re-anointing our messianic governor to do more so as to complete the audacious innovations embodied in the ambitious 'New Face of Imo Initiative.' Suffice it to say however, that virtually no other candidate has the passion, streak and audacity for this unique messianic mission.