LEAVE REF OUT OF IT- ERICO, ARISA TELL GUNNERS FANS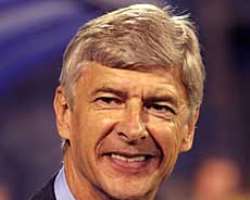 Wenger
To many Arsenal fans and even Coach Arsene Wenger, the Gunners failed last Tuesday's night to book a place in the UEFA Champions League courtesy of the 'dubious officiating' by Swiss referee, Busacca.
In fact, Wenger fuming with rage after the game, and had demanded for an apology from UEFA over what he termed as poor officiating, insisting that his side would have sent Barcelona packing if the officiating of that match was better.
Meanwhile, UEFA responded to Wenger's tirade by hitting the coach and Arsenal's midfielder, Samir Nasri with improper conduct charges for "inappropriate language" towards the Swiss official, and subsequently fined the duo.
Here in Nigeria, most Arsenal fans are still writhing in pains due to that defeat and have yet to be convinced that Barcelona was a better side on that Tuesday night and so, deserved its 3-1 victory. A Gunners' fan, Raymond Akporuerhe, told Sunday Sunsports recently that Arsenal was robbed at Nou Camp on Tuesday.
However, one man who wants Gunners' fans to keep quiet and accept the defeat, is former Super Eagles' assistant coach, Joe Erico. While in a chat with Sunday Sunsports, Erico dismissed all the fuss about the officiating of that big match as 'noise', even as he gave the Swiss referee a pass mark for a job he said was well executed.
His words: 'Nigerian soccer fans have this penchant of crying foul after every match. They wouldn't just leave the referees alone. They would only talk about their favourite team being robbed. For me, as far as the Champions League match between Arsenal and Barcelona is concerned, I must tell you that Arsenal was not robbed in any way at Nou Camp. It was the better team that won.'
Erico, who noted that he's not crazy about European football, said Nigerian fans should learn to give our indigenous teams the kind of support they give to Arsenal, Barcelona and other big teams outside the nation's shores.
'Our clubs are dying and people are busy making noise about Arsenal and other foreign clubs. I would rather want a situation where Nigerian football fans would throw their weight behind Enugu Rangers, Shooting Stars of Ibadan, Insurance of Benin and Kano Pillars,' Erico added.
Meanwhile, Holland-based former Nigerian international, Chike Arisa, in a telephone chat with Sunday Sunsports, also threw his weight behind Ref. Busacca, declaring that Arsenal lost at the Nou Camp battle due to wrong tactical approach to the game.
'Arsenal went defending right from the first minute of the game and that was a wrong approach to football. Look at the ball possession, Barcelona dominated Arsenal very well. Barcelona played better football and should have won by a wider goal margin. 'Arsenal should accept that it lost to a better side. In football we have seen teams that played better even when they were down by one man. Such a misfortune does not really give your opponent any advantage once you have a good squad,' Arisa declared.
Barcelona, with debutantes, Tottenham, Shakhtar Donetsk and Schalke 04, are through to the quarterfinals of the money spinning competition. In the other round of 16 games this week, Manchester United will face Olympic Marseille, Chelsea will play host to FC Copenhagen, Inter Milan will travel to Munich for its game against Bayern Munich, while Real Madrid will host Olympic Lyon.