Mercy johnson Flaunt husband to be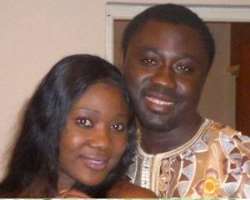 Mercy Johnson is one of Nigeria's favourite actresses. She makes us drool with her acting skills since the day she made her first appearance in "The maid". She has permanently remained on the top list of in the industry and in between those years she has notched most of the awards that is available in the industry.
But in one area that he press has not allowed her to rest is with her love life. The press has continued to speculate over her romance with Edo prince, Odi, who she dedicated her B.O.N award for Best Supporting Actress to in 2009 and unknown to many he has already paid her bride price in late 2009 and if not for her busy schedule they would have done the white wedding in 2010 but barring any unforseen circumstance Mercy Jonhnson is set to do her fairytale white wedding this summer and she is due to travel to the U.S for shopping with her hubby.NFC will keep you updated on the wedding plan as it unfolds.