COUNTDOWN TO ARISE MAGAZINE FASHION WEEK LAGOS 2011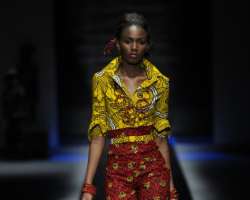 Lagos,Nigeria will become a major Fashion center of attraction in the next few days, and the reason is because about 52 of some of the best fashion designers from around Africa, would converge in Lagos,Nigeria to showcase some of the most beautiful and innovative styles the world as ever seen,not only that, expect to see some of Africa's most successful models strutting their stuffs on the catwalk and expect also the top fashionistas in their best garbs possible.
If what happened at the Arise Africa Fashion International 2009, in Joburg SA is anything to go by, then everyone should expect some of the best produced fashion shows in any part of the world, at that year's edition the 9 Nigerian Fashion Designers that did the show were winners by many kilometers,amongst the 53 Designers from all over Africa that participated, Nigeria's own Folake Folarin Coker of the
Tiffany Amber brand fame & David Tlale of SA emerged "the best designers of 2009" and went on to showcase at the New York Fashion Week.
This year's edition would have 52 designers from all over Africa, with about 30 of them Nigerian designers both home based and many based in the UK or in the US, Ghana,Tanzania,SA and other parts of Africa would be very well represented, so expect the quirky,bohemian,avant garde,racy and so much more at the 4 days extravaganza.
DEOLA SAGOE
ITUEN BASI
FOLAKE FOLARIN COKER-TIFFANY AMBER
MAKI OH
ALEXANDER AMOSU
KEMMY SOLOMON-KEMKEM STUDIOS
LISA FOLAWIYO-JEWEL BY LISA
EJIRO AMOS TAFIRI
NKWO ONWUKA-NKWO
UGONNA OMERUO-HOUSE OF NWOCHA
KIKI KAMANU
KLUK CGTD
GREY
AUTUMN ADEIGBO
MO ALATISHE-VIV LA RESISTANCE
SAMANTHA COLE
YVONNE NWOSU-VONNE
MADAM WOKIES COUTURE
CHRISTIE BROWN
NIKKI KHIRAN
BUKI AKIB
MUSTAFA HASSANALI
KORTO MOMOLU
BRIDGET AWOSIKA
OKUNOREN TWINS
AMINE BENDRIOUICH
GAVIN RAJAH
ANNE MARIE ADDO
EKI ORLEANS
MIMI PLANGE
BESTOW ELAN
JO BLACK CRAZE
CHICHIA
GERT-JOHAN COATZEE
TSEMAYE BINITIE
BUNMI KOKO
ERE DAPPA
ODIO MIMONET
LANRE DA SILVA AJAYI
LAQUAN SMITH
SAHEED SULEIMAN
KASTLE DESIGNS & TREASURE CHEST
RE BAHIA
TOJU FOYEH
PIERRE ANTONI VETTORELLO
ANGELO VON MOL
MATAANO
LOLA FATOUROTI
WALE ADEYEMI
XULY BET
ZEDEYE
RON N RON
And entertainment in the form of music,would be coming from top U.S r'n'b crooner Keri Hilson & friends, also famous British singer & acclaimed songwriter Estelle would be performing,some of Nigeria's best acts like Naeto C,Darey Art-Alade,D'Banj &would also perform during the 4 day show. Tinie Tempah would be the closing act. The venue is the Federal Palace Hotel and the 4 day event would be from March,10 till 13,2011. The last day would finish with a grand fashion party and awards nite