Obasanjo advocates transfer of performing Govs to other States for devt.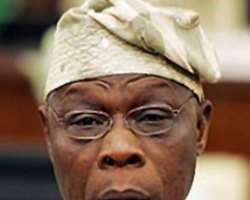 Godswill Akpabio
Nigeria's former President, Chief Olusegun Obasanjo has advocated amendment in the constitution where performing governors in the Country could be transferred to other states to boost even development.  
 Chief Obasanjo who was in the state to participate  in the flag-off campaign of the People's Democratic Party (PDP) in Uyo Senatorial District stated this at a dinner organized for him at Government House, Uyo, regretting constitutional barrier limiting democratically elected governors to their states of origin.
He recalled that under military dispensation, administrators were posted to states other than those of their origin, and wished same system could apply in a democratic setting to create room for Governor Akpabio to bring his wealth of developmental experience to bear on other states within the sub-regions and Nigeria as a whole.
''Akpabio will soon turn Akwa Ibom to a paradise using the flyovers and all forms of transportation including roads, airport, Independent Power Plant and gas processing industry, among others. Railway will soon come. The truth is that the governor is not only doing things that benefit the state alone but other states. I feel proud what you have done in the last four years'', Chief Obasanjo noted.
The PDP Board of Trustees Chairman stressed the need for collaboration between some governors in the South/South and South/East Regions and Chief Akpabio in making their states a hub of economic activities in the regions, saying that the projects executed in the state were beneficial to the state and to her neighbours.
advertisement
The one-time President who mentioned the use of neighbouring Aba, Calabar and Port Harcourt as centres of development, extolling Akpabio's development effort thus ''If you have not landed in Uyo, you have not gone to any place in this part of the Country''.
He used the opportunity to call on the Akwa Ibom State Government to lay greater emphasis on agriculture as a key to the development of the state to create employment opportunities for the jobless and feed the teeming populace.
 
  Chief Obasanjo advised the Governor to accommodate the opposition since, according to him, Akpabio has not disappointed him in his leadership style.
Akwa Ibom Governor, Chief Akpabio said he is a beneficiary of good governance brought about by Chief Obasanjo during his tenure as the President of Nigeria.
The Governor thanked Obasanjo for his support given him and for coming to the state to participate in the flag-off campaign of PDP in the state.
Chief Akpabio who later presented a publication of Uncommon Transformation he has brought to the state to Chief Obasanjo, noting that these achievements could not have been possible without his support.