WHY JOEL OBI MAY REJECT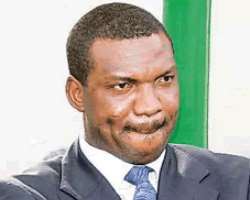 •Eguavoen
Chief Coach of the Under-23 team, Austin Eguaveon, has said that he was not bothered by the decision of the new kid on the block, Joel Obi, to turn down the invitation to the team, stressing that his case will be entirely different.
Eguaveon, who spoke to Daily Sunsports in the Abuja camp of the Dream Team, maintained that the only reason for the Inter Milan's attacker not playing for him in the Olympic qualifiers against Equatorial Guinea was the Super Eagles Nations Cup qualifier match against Ethiopia holding the same weekend.
Stressing that he was the first national team coach to approach the Nigerian international, the former Eagles handler lamented that it would be difficult for the mercurial attacking midfielder to feature in the two games the same weekend.
'I'm not worried about Joel not playing for me and I can tell you it was not the same situation with the Flying Eagles. I was the first person to approach him and I'm convinced he will play for me, however, the only problem I envisage was the Super Eagles match against Ethiopia coming up the same weekend with our own game in Benin,' he said.
Commenting on Joel's decision to turn down the John Obuh-led Flying Eagles, the former Super Eagles defender argued that it would be very difficult for the Italy-based attacker to combine the three national teams.
He further assured Nigerians that he would do everything in his power to ensure that he raises a team whose players would feed the Super Eagles, promising: 'We will not disappoint Nigerians. We will ensure we raise a formidable team to feed the Super Eagles.'