I keep safe distance from male admirers -----Becky Orits Wiliki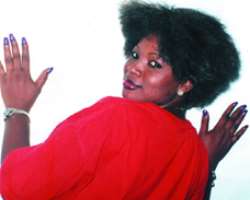 Becky is the better half of musician and producer, Orits Wiliki. Her incursion into the theatre world is not by accident. From her secondary school days, she had not only admired the big screen but had worked to become part of the industry. As a member of her school dramatic society, it was evident that young Becky had what it takes to make it in the big league. It was only a matter of time.
Her role in some school drama series had proved a good platform for her. However, Becky was to cut her teeth in acting when she appeared, though briefly, in the rested soap, Checkmate which served as a launch pad that she needed to be where she needed to be.
Becky Orits Wiliki, a mother of two took Saturday Sun through her journey into acting. She spoke on how she fences male advances from her male admirers as well as challenges of combining acting and family. She also spoke on the need for changes in productions of films in Nollywood.
In the beginning
Right from my secondary school days, I was a member of my school dramatic society and from then on, I naturally developed interest in acting. I started with the stage play entitled "As I like It" by William Shake spear. My experience from the play further triggered my interest for acting. However, my first major outing in home video was a film entitled Wanted Alive, where I acted along side Saint Obi.
The first soap opera I featured in was Checkmate, which is my first soap opera. Though, it was a brief stint. Now, I have a production titled Alero. I am wrote the story and produced too, while my husband is the Executive producer.
Life as an actress
My life as an actress has been quite challenging and demanding because I have to sacrifice every other thing. As much as I enjoy acting, there are certain roles I can't play as a Christian and a married woman. I can't possibly accept the role of a prostitute or take part in steamy scenes of intimacy. I find such scenes very difficult and totally unacceptable. Due to this, I have limited roles
Films with fetish elements
Although, I am a script writer, I like fascinating story lines. I like stories with suspense and intrigue. I don't like films laced with fetish elements. Most of the movies produced these days are focused on the negative aspects of our society and I dislike taking part in such movies. I think there is need for us to moderate the realities in our societies. I believe that theatre as an art should be able to convey positive messages about our culture and tradition to the outside world
It is rather unfortunate that Nigerian movies can not send right and healthy messages. But let me quickly add that the interest of the audience is good story line laced with intrigues be it love story or stories of cultural balance.
While these fetish movies would only portray the evils inherent in our society, it is important that we dwell more on sending positive messages of our society
Challenges
My family is my first priority. It is quite difficult trying to run a family as well as keeping my career as an actress. Just like any other person in any other profession, it has never been easy trying to combine family life and one's career.
However, success is an issue in everyone's life and every one of us wants to succeed both marriage and in career so we put in all efforts to achieve this. Much as we try, we are faced daily with challenges of keeping both paths. It is not easy to abandon any of them. You can't leave your family so also, you won't want to lose focus in your career. You must strive to strike a balance in both fronts. This is the reason I find it difficult to abandon my family frequently for acting assignments that might take me out for long. Apart from that, perhaps, I would have done much better in the movie industry.
Another challenge for me is my decision not to take part in movies involving intimacy. It has been a major difficulty for me because an average Nigeria movie requires you relating with the opposite sex. And my faith does not allow me to take such lousy roles in movies. This, therefore has indirectly reduced the scope of my acting and has also affected my income from the business. But I have so single regret
Advances from men
Acting is a difficult terrain where people think that anything happens. I know that much is expected of actors and actresses. I always say that acting is not different from any other profession. In other professions, romances are not ruled out among the practioners. So, it is in the theatre world.
Although, acting is make-believe, the practitioners are at liberty to engage in relationships and romance. Yes, men will make advances at you but it is left for you to fence them off. Actresses are exposed to sexual harassment because of their peculiar working environment. It is public oriented.
One cannot rule out men approving us or admiring what God has created. But what matters most, is your ability to resist the temptations.
Your attitude towards the offer and your ability to put up a strong resistance is what matters. Men will keep coming after a pretty lady. It is only natural.
However, in my own case, I turn down the offer not minding what you have to offer because as a married woman, you are submissive to your husband. In this profession, I have vowed to keep my pride as a woman. In fact, I like to keep a safe from anything that will bring ridicule to my home and my husband (Orit Wiliki) He is also a key player in the industry. I don't mean some opposite counter part are not showing interest but I always avoid falling into such temptations by not creating an opportunity for it.
Change is imminent in the industry
There is a resolve by the AGN and DGN to bring in more professionals into the industry to correct some impressions. The frequency of occultic and fetish films in Nigeria movies is no longer acceptable by the stakeholders in the industry. And the rapid release of films has also been limited to 3 to 4 films in a week. In fact, this is a very good improvement in the movie industry.
Marriage
I have being married to Orits Wiliki for over 14 years and we have two kids. I'd like to say that our marriage is not without the usual ups and downs but it's been a wonderful experience.
I am lucky to have been married to someone whom I appreciate. We understand ourselves and understand our job schedules because we are in the same industry. When he comes home late at night or stay out all night, I understand perfectly well. I know what he is doing out there because I know the kind of job he does. In fact, the truth is that when you have God as the foundation of your marriage, your joy is guaranteed.