ACN, LAM BETRAYED ME-ILAKA, OYO AP SENATORIAL CANDIDATE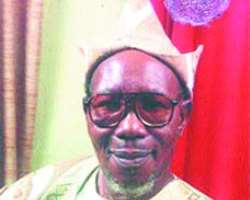 •Lam Adesina
Chief Oyebisi Lukman Ilaka is the Accord Party (AP), candidate for Oyo Central Senatorial zone. He spoke with TOYESE OLADEJO why he dumped the Action Congress of Nigeria (ACN) for the AP. Excerpts:
Political situation
Our democracy is evolving and is robust. There is a good opportunity for us to erect. The various participants on the political level have been making waves by challenging the culture of imposition in the party.
I Joined the ACN with the belief that it is a well-organized party. But to my surprise the leadership of the party has not reciprocated the amount of trust I had in them. The way they handled the selection of their candidates had been done in the shoddiest manner. Even if you don't want to go to primary, the process should be transparent. The process should be fair. I can't see how one can say the party upholds the best practices in any democratic setting.
Programme and vision
Oyo Central by sheer nature is pretty rural inspite of the inclusion of part of Ibadan all the way down to Surulere, Ogo Oluwa, the border of Kwara State. It is by large rural and you have to fix the economy of the rural areas, particularly in the area of food processing industry to provide jobs and to enable the farmers sell their products. The British American Tobacco are doing well, we must try to mechanize agriculture. We must develop their economy and they would stay in the rural areas. We must also improve their education and health facilities. I hope to enumerate a five-point agenda which would include agriculture, improving the local economy, boost security and to create and enabling environment.
Party discipline
The party discipline rests on the leadership of the party. The party should be seen as collective property. We don't have parties in Nigeria but platforms for contesting elections. I have been to a lot of people on how to improve our political parties and drive them towards having distinct ideology. I have met a lot of noble, honourable responsible people. I have also met the most dubious characters that this planet can produce. Politics is for all comers. We have seen men of valour but they need to come on board so that the political space would not be taken over by charlatans and touts.
Campaign
In the next few days, we would come out with a well-structured campaign programmes and ours is a popular brand. Ours is not a hard sell. We are not new to the terrain; we are not new to the people. They know what I stand for and hopefully, we shall come out seriously.
Oyo State under Alao-Akala
I would score them zero. You can't say what the government in Oyo State stands for. Everything has collapsed, the education sector, the infrastructure, and as I speak to you, all the state hospitals are under lock and key. They lack focus and vision. I can't see any discernible vision of the government. You must know what a government stands for. I can't articulate even one vision of the administration. We can't see anything. Government is about planning. Oyo is refuse capital of the South West. They don't hold dialogues with anybody. It is antagonism at its best in all ways. They are not in good term with teachers, drivers, civil servants etc. It is awfully bad.
Credible elections
I think INEC has done well. They have erred in some ways. For instance, in their wildest imagination, they can't forecast the number of people that would register. In some areas, people got registered within five minutes but in some areas, people stayed long in the registration points. Rigging starts from voters registration. They have done the best they can in the present circumstances and the people have been most enthusiastic. If the people had not come out in greater number, we won't be talking this way. Our people are highly sophisticated and they know who they are going to vote for. INEC should do the job well and give us good, credible elections.
Assessment of the National Assembly
They have pulled their might. They have amended the Electoral Act but in some instances, they have not faired well. The freedom of information bill is yet to be passed. They've lot of challenges but they need to focus on transparency in government. There was an allegation that the National Assembly members are taken certain percentage of the nation's wealth, but all these are still shrouded in secrecy. They've not told us how much they earn.
Advice to voters
They should make sure they vote for people who would deliver democracy dividends to them. They should vote for those that would connect them to the government and not those who would disconnect them.
Stopping traditional title holders from going into politics
I think it is not proper. The Constitution is so clear on this. As a true born citizen of this country, I have the inalienable right to contest. As the Ladilu of Oyo, traditionally, I am expected to be interacting with my people and this is what I have been doing. I can't but be connected with my people. I am to represent them. I remain their permanent representatives and I can't see how I can leave them. I have chosen politics as a vocation. It is like finding a religion. I think politics, dream politics, sleep politics and politics is my life.