NASS, Oil & Gas Parastatals In Showdown Over 2011 Budget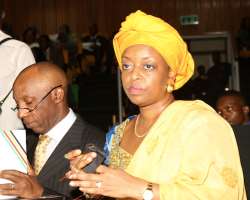 R-L: PETROLEUM MINISTER DIEZANI ALISSION-MADUEKE AND GROUP MANAGING DIRECTOR, NNPC, MR AUSTEN ONIWON DURING THE CHIEF OFFICERS MANAGEMENT DEVELOPMENT PROGRAM (COMDP) HELD AT THE NNPC HEADQUARTERS IN ABUJA TODAY, FEBRUARY 14, 2011.
ABUJA, Feb 14, (THEWILL) - The National Assembly and federal government Oil and Gas parastatals are headed for a major showdown over the inability of the industry's top notch to defend their 2011 budget proposals and also the failure of the revenue generating agencies under it to submit their revenue profile and budgets to NASS for approval.
As a result lawmakers have threatened that unless the Nigerian National Petroleum Corporation (NNPC) and other Federal government's revenue generating agencies within the sector submit their revenue profile and budget to NASS, it would have no choice but to withhold approval of the sector's 2011 budget.
A joint committee of both the Senate and the House of Representatives on Gas at a budget defence hearing today in Abuja dispersed in anger some middle level executives in the industry who had come to stand-in for their top executives, particularly, the Minister of Petroleum Resources, Diezanii Allison-Madueke.
The Minister was represented by the Permanent Secretary against the rules of the parliament, which requires only the accounting officers of the Ministries, Agencies and Parastatals s to defend their budgets.
Chairman of the Senate Committee on Gas, Senator Osita Izunaso announced the postponement of the hearing to Tuesday next week, but on the premise that the Minister appears in person and that all the parastatals viz; NNPC, Directorate of Petroleum Resources (DPR) and others must submit their budget on or before the meeting.
He said it is worrisome that the sector would renege on what the simple rule states and what has become a statutory requirement of government agencies.
"We cannot go ahead with the budget defence until the sector does what is required and if you fail there may not be 2011 budget for you. We are tired of this type of attitude," he said.
Recall that the National Assembly leadership had during the 2011 budget presentation by President Goodluck Jonathan, declared that all revenue generating agencies would henceforth submit their budgets and revenue profiles to the National Assembly for approval in line with the provisions of the Fiscal Responsibility Act.
Similarly, the President of the Senate, Senator David Mark had during the second reading of the budget said the only conditions for the passage of the 2011 budget is if the agencies comply with the fiscal responsibility bill and submit their budgets to the National Assembly.
Before now budgets of parastatals like the NNPC, DPR, Nigerian Ports PLC, Nigerian Communication Commission (NCC) among many others were not subjected to the scrutiny of the National Assembly.