April Poll: Chime, Ekweremadu Out, Akala In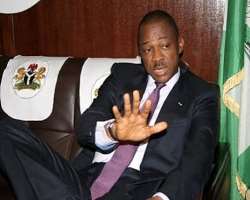 ENUGU STATE GOVERNOR, MR SULLIVAN CHIME.
SAN FRANCISCO, Feb 14, (THEWILL) – The Independent National Electoral Commission (INEC) in Enugu State today displayed a new list of candidates eligible to contest in the April elections without the names of Governor of Enugu State, Mr. Sullivan Chime, Senate Deputy President, Senator Ike Ekweremadu, Senate Spokesman, Senator Ayogu Eze and majority of the members of the state's House of Assembly including its Speaker, thus technically knocking them out of the elections.
In the new list, Chief Anayo Onwuegbu was listed as PDP's Governorship candidate with Chief Uchenna Ogbu as his running mate.
Also listed were all the candidates that emerged from the primary conducted by the party faction loyal to erstwhile National Chairman, Dr. Okwesilieze Nwodo.
INEC Resident Electoral Commissioner, Mr. Josiah Uwazuronye said it was obeying a court order that stopped it from recognizing the Chime faction of the party. He added that until another directive is received from its national office, the names posted remain the bonafide candidates for the election.
But the PDP national head quarters has moved to obtain a superior court order to enable Chime and his faction emerge candidates for the polls.
THEWILL gathered that a case was filed on Monday at a Federal High Court in Abuja.
Meanwhile, in Oyo State, Governor Christopher Adebayo Alao-Akala shot himself back into the April election after he successfully got a Federal High Court in Ibadan, Oyo State to lift an earlier injunction it granted stopping INEC from accepting Akala as the PDP Governorship candidate.
Recall that some members of the PDP in the state, Elder Wole Oyelese, Alhaji Yekini Adeojo, Hazeem Gbolarunmi and other aggrieved party men had secured an interim injunction restraining the PDP from forwarding the names of Alao-Akala and other candidates elected in the December congress of the party to INEC.
While vacating an earlier injunction he had issued last week, Trial judge, Justice Shakarho ruled as follows: "I have read the reliefs of the plaintiffs and some of them are seeking elective positions under the PDP so also the fourth defendant. The effect of the interim order is that none of the plaintiffs and defendants can be fielded and this can work against the interest of the party.
"Plaintiffs and Alao-Akala can approach INEC to sort things out; the third defendant is free to present any candidate to the electoral commission. In the course of presenting a candidate for the governorship, if it was discovered that Alao-Akala was wrongly fielded, the natural law would take its course."