RUSSIA VOWS TO PROTECT DISPUTED ISLANDS WITH JAPAN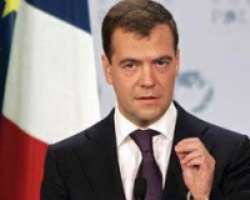 IN a move that may further strain relations, Russian President Dmitry Medvedev has vowed to deploy sufficient weaponry to ensure the security of four disputed Pacific islands claimed by Moscow and Tokyo.
The Russian leader, according to the Voice of America (VOA) said the islands are an 'inseparable' part of his country.
The four islands, known as the Southern Kuriles in Russia and the Northern Territories in Japan, were seized by Soviet troops at the end of World War II. The dispute over the island chain has prevented the two countries from signing a formal peace treaty for 65 years.
Earlier this week, Russia repeated its long-held position it will never relinquish control of the four islands in the northwest Pacific.
That Kremlin statement came after Japan's Prime Minister Naoto Kan promised his government would 'tenaciously' pursue the return of the islands during a trip to Moscow later this week by Japanese Foreign Minister Seiji Maehara.
Kan said Japan would negotiate with Moscow to regain the islands and complete a post-World War II treaty. He also called Medvedev's visit to the islands in November an 'unforgivable outrage.'Similarly, North Korea has dumped further talks with the South, blaming Seoul for insisting on putting the deadly sinking of a warship on the agenda.
Ties between the two Koreas plunged to their lowest point in decades last year in the wake of two of the worst attacks since their 1950-53 war: the March sinking of a South Korean warship that killed 46 sailors and a November artillery barrage on a front-line South Korean island that left four deadTalks this week had raised hopes in some quarters for improved inter-Korean ties and eventual discussion about North Korea's nuclear programme.But after opening on an optimistic note on Tuesday, the meetings inside the Demilitarized Zone ended abruptly on Wednesday afternoon, with both sides accusing the other of walking out.
At the heart of the impasse: the sinking of the Cheonan warship, which Seoul wants Pyongyang to acknowledge and which Pyongyang denies attacking.
South Korea wants to put both incidents on the agenda for any higher-level defense talks between the two Koreas that would be their first three years. The North seems intent on avoiding any discussion of the Cheonan – the sinking of which an international investigation blamed on the North. Pyongyang called Seoul's insistence a sign of Seoul's insincerity.
'The army and people of (North Korea) do not feel any need to deal with the group of traitors any longer now that they do not wish to see the North-South relations improved but totally reject the dialogue itself,' the North Korean military said in a statement yesterday.