NIGERIAN IDOL FETES 3 FINALISTS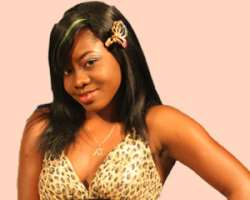 'Nigerian Idol has taught me a lot, and even though I didn't make it to the final leg, I must say I have learnt a lot of things. As one of the contestants on the top 50, I am working on something really soon' Godson Oriakhu, one of the contestants who didn't make it to the final show disclosed.
The 13 finalists are Ola, Naomi, BB, Glory, Zoe, George, Nina, Emmanuel the Great, Alex, Yeka Onka, AJ, Chito and Toni.
21 year old Olamide Baruwa Etti is a 400 level student at Babcock University who is gradually becoming a favourite amongst the ladies. Naomi Tare Mac Ebiama is a 19 year old stylist and dancer.
She is seen by many as one of the contestants who will go far in the competition..
Glory and BB are 22 years old Law Undergraduates based in Abuja and Kano respectively.
While Glory studies at the FCT, BB's at the verge of rounding up at the Igbinedion University.
BB emerged the contestant with the highest votes in the second group.
Zoe, George and Nina are 25 years old. While Nina is a lawyer who presently manages a spa in Abuja, George, a Geographer, quit his job at Transcorp to be a part of the competition.
25 year old Emmanuel the Great is a graduate of the Olabisi Onabanjo University where he earned a B.Sc in Sociology in 2006. He is based in Lagos, Nigeria while Delta based Alex, a 300 level Banking and Finance student of University of Benin is also 25.
26 year old Onka Yeka is an 200 level student of History and International relations at the University of Calabar. Also a backup singer, Onyeka was crowned Queen of Abia in 2006. Chito is a self-described life glutton based in Enugu.
AJ and Toni are two of thelucky three called back during the Wild card episode of the show. AJ is a 300L undergraduate of Genetics and Bio Technology in University of Calabar while Toni, 25 is a graduate of University of Ilorin who lives in Lagos.
The contestants were unveiled at a star- studded cocktail event at the Dream Studio on January 29, 2011.Also present at the event were entertainers like Wiz Kid, Kel, Lynxx, Lami, Dipp, Tee A and Gbenga Adeyinka
From now till the end of the show, all 13 finalists will live in an apartment and will be tutored by a group of professional music instructors whose job is to refine the contestants into finished and polished articles whose songs will be ready for mass consumption.