JONATHAN FLAGS OFF PRESIDENTIAL CAMPAIGN TODAY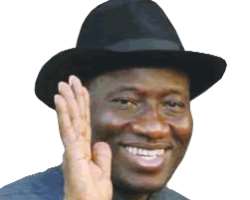 Jonathan
Peoples Democratic Party, presidential candidate and incumbent President, Dr Goodluck Jonathan will today flag off his presidential campaign at Lafia, the Nasarawa state capital, as part of his scheduled campaigns, which will take place in the six geo- political zones across the country.
Jonathan had emerged as the PDP presidential flag bearer at its national convention, held on January 13, 2011.
Today's event is being hosted by governors of the North-central zone on behalf of the PDP NWC. The itinerary will shift to Ibadan, the Oyo state capital on Tuesday, which is being organised by the south west governors in conjunction with the Alhaji Tajudeen Oladipo-ed south west leadership of the party.
The event, which has been described as grand flag off rally, will have in attendance, the party's presidential flag bearer, members of the PDP National Working Committee, Board of Trustees  and National Executive Committee.
National publicity secretary of the party, Professor Rufai Alkali, in a statement made available to journalists late night yesterday disclosed that it would be an epoch making event.   'With His Excellency, the President, Dr. Goodluck Ebele Jonathan (GCFR), the Presidential Candidate of the PDP as the Special Guest of Honour and the Vice President, Architect Mohammed Namadi Sambo (GCON), the Vice Presidential Candidate of the Party as the Guest of Honour and with members of the National Executive Committee, Board of Trustees, State Governors, leaders and members of the National Assembly as well as members of the PDP through out the Federation expected in attendance, the ancient town of Lafia will indeed play host to the entire nation.
The people of the North Central region whose city will be at standstill are waiting to prove once more that their Zone is an impregnable fortress of the Peoples Democratic Party. Today's Grand flag off Rally of the PDP presidential campaign, coming shortly after our successful primary elections has once again separated the Peoples Democratic Party from other political parties in Nigeria as the only sure vehicle for the deepening and sustenance of democracy in the country.
The PDP's Special National Convention of January 13 2011 which elected Dr. Goodluck Jonathan as  Presidential candidate and Architect Namadi Sambo as his running mate is internationally acclaimed as the most transparent and credible primary election in Nigeria's recent history. Clearly, the choice of these two great Nigerians is applauded by those who wish the country well as 'Day break Nigeria.'
With the leadership of the nation entrusted upon their shoulders by destiny, their humility, sincerity, openness and above all, the much needed competence and the right attitude to leadership have stood them miles apart from all contenders to Nigeria's presidency in the coming general elections. They have so far shown visible commitment, determination and foresight to transform Nigeria.